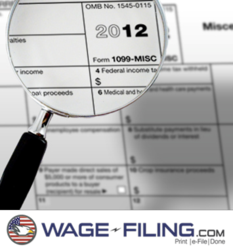 Small business find online 1099-MISC e-filing services to be a lifesaver whether they file 1 form or 100 forms.
Grand Rapids, MI (PRWEB) December 20, 2012
For small businesses surviving in this economy, relying on independent contractors to get things done, instead of hiring employees, has become very common. The Electronic Tax Administration Advisory Committee (ETAAC) projects 92.6 Million 1099-MISC will be filed in 2012, a 13% increase over the 80M filed in 2010 as reported by the IRS.
Because hiring contractors is less of a commitment, small businesses see it as an ideal alternative to hiring regular employees. It also removes a tax burden from the company and eliminates expensive benefits from the equation.
But these contractors must be issued a 1099-MISC form each year, with copies also filed with the IRS. Some States require 1099s as well. This includes contractor who is paid $600 or more in 2012, but doesn't receive a regular pay check with taxes taken out.
WageFiling.com, a 1099-MISC e-file service, reports an increase of 50% in the number of forms processed from 2010 to 2011, and projects a similar increase for 2012. This not only illustrates the increase in overall volume of forms, but also that small businesses are switching to electronic filing.
Online 1099 services are an easy way businesses can handle an increase in forms. These systems e-file with Federal and State governments, plus print recipient copies from anywhere, without the need to buy forms or software.
Although available for years, e-filing of 1099-MISC forms by small businesses is also set to reach record numbers for 2012. Instead of printing forms and mailing copies to the government, they electronically send the information to the IRS instead. 66% of all businesses did last year according to ETAAC Annual Report.
"E-filing functionality is finally catching up with technology to make it easier than ever", says WageFiling.com co-owner Scott Zubrickas. "Small businesses can now take care of a time consuming task (finding, printing and mailing forms) and get it done on-the-go using a tablet, smart phone, laptop or even a home computer."
Businesses are finding these online filing services to be a lifesaver. They're jumping on board in record numbers because they love the efficiency. Online 1099-MISC filing is:

A time saver – no need to buy forms or print federal and state copies
Government approved – e-file with the IRS and States instantly and print IRS-approved recipient copies
Environmentally friendly – saves paper and gas to the office store
Technology friendly – file on a computer, tablet or smartphone
Easy-to-use – most systems have a simple interface for fast data entry and e-filing
Affordable – pay only for the forms you file, even if you only need 1
Other benefits of e-filing include automatic error checking and TIN (Taxpayer Identification Number) matching services. They also guarantee compliance with IRS regulations to reduce the risk of penalties, which can be as much as $100 per incorrect form.
Jonathan Blum of Entrepreneur.com has said of WageFiling.com "This easy-to-use online service lets you print, produce and file your own W2 or 1099 forms on the cheap". It's ideal for businesses that just have a few to file and can't justify the cost of software.
No wonder a record number are set to use it this year.
For more information, and to instantly e-file 1099-MISC forms, visit http://www.WageFiling.com. We strive to make this tax season chore a breeze for small businesses, whether they file 1 or 1000 forms.