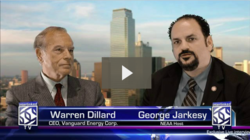 We have been able to build our portfolio, not only of land, but we've also materially increased our number of producing wells."
Dallas, Texas (PRWEB) December 19, 2012
The National Eagles and Angels Association (NEAA) held its past meeting in Dallas, Texas. InterlinkedTV has exclusive coverage of the interviews of companies that presented at that event.
Warren Dillard, CEO of Vanguard Energy Corp, was interviewed by George Jarkesy, National Eagles and Angels Host, at the National Eagles and Angels conference.
During the interview, Dillard stated "We, as a small company, had four producing wells when we did the IPO; we are now at 12 wells with two more being drilled in the next 30 to 60 days. We have been able to build our portfolio, not only of land, because we have more than doubled our lease hold position but we've also materially increased our number of producing wells." Dillard added, "Creation of value is the most important thing management can do. We create value through increasing cash-flow and increasing reserves, not by buying it, by creating it through the drill-bit."
Vanguard Energy Corp. has managed to put together a strong management team, including R. Gerald Bailey, PHD, Warren M. Dillard, Michael L. Fraim, PHD, and Delton C. Drum. They have been cash-flow positive since April of 2011, and are focused on adding value through increasing their positive cash-flow and their PB10 value, which is currently at $3 per share. They plan to accomplish this by continuing to drill producing wells.
About Vanguard and InterlinkedTV
Vanguard Energy Corporation is a pure-play upstream oil production company. Based in Houston Texas, we are focused on shallow drilling of new wells on established/land-based fields in the hydrocarbon-rich eastern part of Texas. We currently have enough acreage under our control to drill more than 50 new wells. Our experienced, proven management team has an extensive track record of success in all aspects of oil and gas acquisition, development, production and finance. If you would like to learn more about Vanguard Energy Corp., you can visit us on our website.
InterlinkedTV is an internet video production and distribution site dedicated to Entrepreneurs and Investors. We feature education, public and private companies, venture capital news, and investment events. This content is exclusive and cannot be found anywhere else. We give our members and viewers a unique chance to meet the CEOs and executives of high growth companies. If you would like to know more visit our web channel.