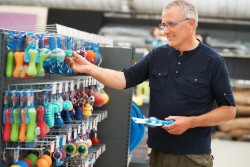 It's imperative to not forget the marketing value of unique, customized product labels, which are able to portray stories and company information quickly and efficiently.
Denver, CO (PRWEB) December 19, 2012
Lightning Labels, a digital printer of custom stickers and labels, offers business tips even the smallest of manufacturers can follow and benefit from. When a company's resources are limited, they may feel overwhelmed by the prospect of implementing a successful marketing campaign; however, using customized stickers and labels on products can complement promotional tactics and attract consumers.
"With multichannel marketing allowing manufacturers to promote their products on social media sites like Facebook and Twitter, people's attention is drawn in many directions," says Lightning Labels Production Manager Julie McCulley. "However, it's imperative to not forget the marketing value of unique, customized product labels, which are able to portray stories and company information quickly and efficiently."
Must-Have Marketing Tips For Labels
Social media - while globally used and important for many manufacturers' marketing campaigns - has a tendency to be short and sweet. Images and messages are fleeting, giving consumers a quick message before a competitor's message appears and they are pulled in a different direction.
However, there are three important reasons custom sticker labels are an important addition - if not the most important addition - to a product marketing strategy:
1. Labels Provide Plenty Of Product Information.
Not only are labels used to tell consumers what components are in a product and give valuable directions on using the product, but they capture the audience's attention and tell a story. Consider using labels as a product's billboard, providing interesting details - including where the product is manufactured and descriptive marketing copy that tells a story of the product and its uses - and make use of the label's valuable real estate.
2. Custom Stickers Give Consumers A Look Inside The Company.
Utilizing informative sticker labels in a marketing strategy can also serve as an introduction of a consumer and the company that manufactured the product. This can be especially beneficial and attention-getting if the company follows certain standards, such as an emphasis on charity, eco-friendly manufacturing and sustainability and a rich company history, but it can also give potential customers the extra push they need to purchase the product instead of one from a competitor.
3. Labels Are Attractive And Appeal To Large Audiences.
People don't have to follow a social media account or subscribe to a mailing list to be affected by custom stickers and labels. Not only do product labels' bright colors have the potential to garner interest simply from being attractive on a shelf, but they can be designed in line with a company's current branding strategy, which can then be carried across direct and social media marketing channels.
Thanks to advances in digital label printing, manufacturers are able to purchase custom labels that will work best for them in easier-to-manage quantities. Rather than worrying about how to market using limited resources, businesses and product producers can now utilize the power of label marketing, which doesn't just make the product look better - it has the potential to greatly increase sales.
For those ready to take advantage of these business marketing strategies, Lightning Labels is offering a special Anniversary Sale with year-end savings: Take 15% off new orders through December 31, 2012, using code YEAREND at checkout. The maximum discount for orders is $1,000. Free ground shipping is available on regularly priced orders shipped within the U.S. and Canada, though shipping charges apply for printed press proofs. This offer cannot be combined with any other offers or promotions.
About Lightning Labels:
Lightning Labels uses state-of-the-art digital printing technology to provide affordable, full-color custom labels and custom stickers of all shapes and sizes, and now offers a full line of custom packaging products. From small orders for individuals, to the bulk needs of big businesses, Lightning Labels is equipped to handle and fulfill sticker, label and product packaging projects of all types. Best of all, like the name implies, Lightning Labels provides a quick turnaround to every customers' labeling and product packaging needs. Uses for Lightning Labels custom product labels and custom stickers include food packaging and organic food labels, wine and beverage labels, bath and body labels, and nutraceutical products, such as vitamins, essentials oils, and herbal remedies, as well as event stickers, adhesive window stickers and more. Lightning Labels strongly supports the development of environmentally friendly printing materials and carries EarthFirst PLA, a new kind of green label material made from corn instead of petroleum. While operating as a high-tech printer, Lighting Labels prides itself on its personalized customer service. Lightning Labels provides one stop shopping for all of your label and product packaging needs. For more information and to place orders online, visit LightningLabels.com. For the latest in packaging news and labeling promotional offers, find Lightning Labels on Facebook, Twitter (@LightningLabels), and Google+.