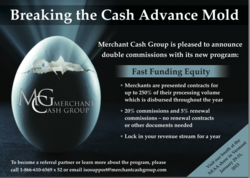 In today's market, just receiving commission on a deal alone does not cover the overhead
Las Vegas, NV (PRWEB) December 19, 2012
Merchant Cash Group's Supplemental Bonus Program is designed to provide referral partners with additional income to help cover the costly expenses of lead purchases, office rental space, or payroll. The new bonus program will begin the first of the year and is designed for all referral partners who refer merchants to Merchant Cash Group.
The supplemental bonus program, that is scheduled to open the first of the year, will supply up to an additional $5,000 in revenue on top of the already highly competitive commission paid by Merchant Cash Group for referrals
Referral partners will receive a $2,500 bonus for only having to fund three Fast Funding Equity Deals and a $5,000 bonus for having five Fast Funding Equity deals funded in a calendar month. In order to help achieve this goal Merchant Cash Group is allowing two standard cash advance deals to qualify as one Fast Funding Equity deal. The bonuses will be paid out on the last day of the month. Heather Francis, head of the business development program states "In today's market, just receiving commission on a deal alone does not help cover the overhead, as much of the commission is passed on to the agents. This additional revenue stream will allow the partners more flexibility with their overhead costs and hopefully alleviate any financial stress that comes with owning and operating your own Independent Sales Office."
For any ISOs or Agents who are interested in capitalizing on the Supplemental Bonus Program and are not already set up with Merchant Cash Group may inquire with a representative at 866-610-6569 ext 31 or contact Heather Francis at heather(at)merchantcashgroup(dot)com.