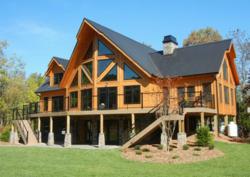 We found [Timber Block] offered the ideal combination of quality, energy efficiency and customer service.
Connelly Springs, NC (PRWEB) December 20, 2012
On January 14th, 2013, Michael Boomgarden will attend his very first Timber Block dealer meeting in Hickory, North Carolina. It won't be his first trip out to the model home, but his last visit was as a satisfied customer and guest speaker at the company's official Grand Opening event.
When asked him what made him decide to become a Timber Block dealer, here is what he had to say:
"After deciding to build our second home, my wife and I made the usual rounds, looking at the products from a variety of log home companies and builders. Eventually, we came back to Timber Block, which we found offered the ideal combination of quality, energy efficiency and customer service.
"Naturally, when the opportunity presented itself to become a dealer, I jumped at the chance. It's not every day that you get the chance to be associated with a great organization, and I fully believe that Timber Block homes are unrivaled in quality, beauty and value."
Michael follows closely in the steps of Jim Pluta. Jim received his home in 2011 and became a dealer in 2012. So what is it about the Timber Block solution that is turning homeowners into business owners? According to customers and dealers, it comes down to three things: Timber Block's commitment to technology, to the environment, and ultimately, to its homeowners.
Technology
Nobody else can offer what Timber Block brings to the table. The aesthetic of the log home in combination with the innovation and technology that provide R-30 insulation on the walls can't be found elsewhere in the industry. Traditional log companies are struggling just to meet current building codes. Timber Block exceeds both current and future-proposed legislation with regards to insulation, positioning them as leaders in log home building.
The Environment
The focus of most of the research and development is to ensure that Timber Block homes have as small an impact on the environment as possible.
Timber Block in partnership with RPT (Renewable Powertech Inc.) can provide a service to deliver a log home that will help reduce energy bills, if not almost eliminate them. Imagine living in a log home with little energy costs. An energy efficient log home needs a superior thermal envelope (great insulation + a superior seal) which a Timber Block home delivers.
Only 40% of the wood is utilized to manufacture a Timber Block structure, the remaining 60% is utilized to manufacture other components, resulting in less waste. And Timber Block's unique, high pressure insulating foam injection procedure contains no Ozone Depleting Substances (Zero ODS), causing no ill effect to the environment.
Service
Timber Block delivers exactly what is promised and more. Home construction can be very stressful for homeowners. It involved a great deal of their money and they have very little control over the process – or at least that consumer perception. Timber Block works with its customers in a collaborative way ensuring that the experience is smooth and they can take possession of their home as quickly as possible.
About Timber Block:
Timber Block's team of professionals offer a product unmatched in residential or commercial log and timber construction, which provides clients with state of the art, environmentally responsible technology combined with cost-effective building methods. Delivering stock or custom products, the team at Timber Block works within partnerships, maximizing the aesthetic and investment, to realize the dream of each unique project. Timber Block provides custom or stock insulated log homes utilizing a revolutionary R-30 insulated log, which is a proprietary and patented product.