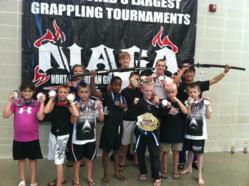 "The demand from Ellicott City parents has become so great we can't ignore it!" - Julius Park
Ellicott City, MD (PRWEB) December 19, 2012
This month Crazy 88 Brazilian Jiu-Jitsu, the premier Youth Martial Arts Program in the Baltimore area, has expanded its after school and pick up program to children who attend Veterans Elementary located in Ellicott City.
Crazy 88 Brazilian Jiu-Jitsu will now conveniently pick up students from Veterans Elementary School and provide them with a balance of academics and athletics in its after care program.
The Elkridge, Maryland based martial arts academy teaches children more than just self-defense. The instructors, each of whom is college educated, tutors the children and assists them with their homework upon arrival at the gym. Once their school work is completed, the students train in Mixed Martial Arts classes, which are taught by world class instructors.
All the instructors at Crazy 88 Brazilian Jiu-Jitsu have some type of professional or international level experience in Brazilian Jiu-Jitsu, Muay Thai Kickboxing, and/or Mixed Martial Arts. You would be hard pressed to find these credentials at any other martial arts program in Howard County. Yet at Crazy 88 Brazilian Jiu-Jitsu it is not uncommon, actually it is the norm. As of currently, two of the instructors are the 2012 Jiu-Jitsu No-Gi World Champions at their respective ranks.
Also, Crazy 88 Brazilian Jiu-Jitsu has an amazing track record of turning children into champions. As a member of Team Lloyd Irvin, Crazy 88 is a part of the best Youth Brazilian Jiu-Jitsu team in not only America, but also the world.
Owner and Head Instructor, Julius Park, explained why the school was chosen for this latest addition to the program. Park explained that "Crazy 88's after school program has gained so much popularity and received such rave reviews that the demand from Ellicott City parents has become so great we can't ignore it!"
If you have a child that attends Veterans Elementary School and would like to learn more about Crazy 88 Brazilian Jiu-Jitsu's After Care program please visit the website - http://www.BaltimoreMixedMartialArts.com