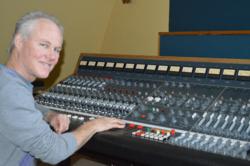 Seasons Greetings !
Rockwood Ontario Canada (PRWEB) December 20, 2012
In the Spirit of Christmas, musicians came together, donated their time and expense in support of making the record possible. On the recording is Michael Sloski, drummer on Robert Seagrove's newly released "Art of Diffusion" album. Michael's name has appeared on many popular recordings and performed with artist such as Etta James, Ben E. King and Bruce Cockburn. The list goes on.
James Gannett donates his precious talent as stand up bassist. James has played and studied with well known musicians, Guido Basso, Lorne Lofsky and many more.
"Carol McFadden, music instructor and pianist attended the original demo session for the song more than twenty five years ago with her class of vocalists to record the back up harmonies. She also provided her beautiful voice along with the students." Robert Seagrove continues "Two tracks survive into the new session which were 12 string electric guitar and the small choir. The original tracks recorded in the demo session were quite good on the original eight track tape and then days ago digitally transferred very simply into Pro Tools to be completed with the new tracks. The original lead vocal track was also quite good but I was looking for a more mature voice. This time I was able to provide that."
The song quickly attracted attention from Michael Bryan, a former bandmate decades ago. He is currently owner and director of Third Stone Mastering. Michael has offered to donate time and expertise in the audio mastering process for the new song.
The new song "A Christmas Wish" may very well become a classic.
It can be found on Robert Seagrove's website followed by worldwide availability on itunes and other familiar outlets.
Robert Seagrove - Bio
Robert has spent the bulk of his music career as a guitarist, songwriter, vocalist, audio engineer, putting together a number of bands spanning decades while writing and producing music. Past releases have found their way to admirable rotation on commercial radio airwaves. Robert has entertained audiences at many hotels and chains including Sheraton Hotels, Hyatt Regency Hotels, Park Plaza Hotels, including High Schools, Universities and music performance halls. He also works as a freelance guitarist, founded Neptune Sound Studio, designs, repairs, modifies and builds high end audio equipment. Most notable achievements include the invention of "The Electro Acoustic Sound Diffuser" for the electric guitar.