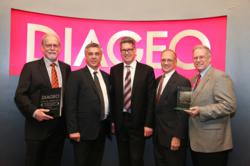 Athens, GA (PRWEB) December 19, 2012
Fowler Products, powered by Pro Mach, and its French partner, Perrier Bottling Machines have been recognized by Diageo, the world's largest producer of distilled spirits, with the Distinguished Honors – Special Projects award. Over the last two years, Fowler supplied six Perrier cleaning and filling systems and Fowler/Zalkin capping machines to two Diageo facilities.
The Distinguished Honors – Special Projects award is given to the supplier that delivered a significant and critical project on time and on budget with exceptional leadership. Award winners must also demonstrate the kinds of creativity that result in exceptional value to Diageo. At the awards event held at Diageo Americas corporate headquarters, David Cutter, president of Diageo Americas Supply, said, "Working with world-class suppliers is a key element in ensuring Diageo provides quality, innovation, service, and value to its customers."
Fowler was responsible over a two-year period for supplying Perrier fillers and bottle cleaners and Fowler/Zalkin cappers on six packaging lines in two Diageo facilities in Illinois and Maryland. These six new systems joined two existing systems previously installed within Diageo Americas. The Fowler/Zalkin cappers featured turrets that are capable of running roll-on-pilfer-proof (ROPP) aluminum closures, plastic screw-on closures, and "T" corks. Because these machines have extremely fast changeover times among the various closures, throughput was enhanced.
The Perrier filler's unique neck gripping system perfectly centers the bottle for fast, precise filling, delivering +/- 1 millimeter fill height accuracy per bottle. Neck gripping also decreases changeover time because bottles with common neck finishes can all be run with the same gripper.
These Perrier fillers do not rely on a high level of vacuum for rapid filling, which is an advantage for Diageo because vacuum can negatively impact the proof of spirits. Since only low level vacuum is used during filling, the throughput for PET containers is also improved because high vacuum has a tendency to collapse the plastic containers. The combination of Perrier and Fowler/Zalkin machines has set production records at the Diageo facilities.
For the purposes of these projects, Diageo worked with one company – Fowler. Fowler provided associated project management and logistics with its partners, Perrier and Zalkin. It designed and assembled all of the control cabinets, wiring, and electric components, assuring compliance with all applicable codes (NEC, UL, DISCUS, etc.), then developed the integrated control software. Fowler provided operator and maintenance training and also helped to integrate the clean-in-place (CIP) systems. "Diageo created an exceptionally open and collaborative environment for this major multi-line, multi-plant project," said Don Cotney, president and general manager, Fowler Products. "We experienced excellent communications and responsiveness with the Diageo project managers and engineers, resulting in very successful installations."
For more information on the benefits of Fowler Products solutions for capping, rinsing, filling, and pulsed-light sanitation, call 1-877-549-3301 and visit http://www.FowlerProducts.com.
About Fowler
Fowler Products was founded in Athens, Georgia, in 1952. The company has partnerships with Andre Zalkin & CIE, Perrier Bottling Systems, and Claranor, all French companies. In 2000, Fowler became a division of the Pro Mach group of packaging companies. For more information on Fowler products, services, and contacts, please visit http://www.FowlerProducts.com.
About Perrier
Ets. Perrier located in Le Cheylard, France, is a world leading provider of bottle filling and bottle cleaning equipment for the spirits and wine industry. The company's innovative and unique technologies for cleaning and filling set it apart from all other machinery manufacturers in the industry.
About Zalkin
Ets. Andre Zalkin & Cie, located in Montreuil – L'Argille, France, manufacture capping machines that offer unique and proprietary technologies to apply a wide range of closure types, including screw caps, roll-on aluminum closures, oriented and non-oriented push-down closures, plugs, fitments, and lids.
About Pro Mach
Pro Mach, Cincinnati, Ohio, is a leading provider of integrated packaging products and solutions for food, beverage, household goods, pharmaceutical, and other diverse consumer and industrial companies. Through multiple business units and related brands, Pro Mach provides equipment, training, installation, and parts in primary packaging, end-of-line packaging, and identification and tracking. http://www.ProMachInc.com