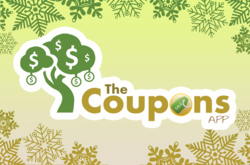 Austin, TX (PRWEB) December 18, 2012
Retailers wanting to make the most of their coupon offerings this holiday season can look to The Coupons App, the leading mobile coupon app, for feedback and suggestions for success. Having been used by millions of mobile consumers, there are certain trends that might provide some insight into the types of coupons that are working well.
"The online coupon industry is highly competitive, as I'm sure most retailers are aware," notes the developers. "Any edge we can provide to help them is our goal, since we want our customers to be happy with these coupons as well."
Based on the amount and types of activity the developers of The Coupons App have seen on their app, the following three approaches have routinely demonstrated success for retailers:
1. Lesser known brands should offer deeper discounts.
It goes without saying that new brands might need to increase the motivation to try out a new product or service. Discounting their product deeper than their competitor, or putting together an attractive package, such as buy one and get one half price, helps these newcomers increase activity. Some of the larger brands have exclusions on their offers. If smaller brands want to steal those buyers away, they can do across the board discounts on all products.
2. Everyone should offer free shipping during the holidays.
A recent report from FedEx indicates complimentary shipping can boost sales, however, each retailer should research the details on what works best for them. They should also review what their competitors are doing, not to copy them, but as part of their due diligence. Retailers should also remember to exclude international and priority shipping unless it works to their benefit to include it.
3. On average, a 20% off coupon initiates more activity than a 15% off coupon.
The more well-known the brand is, the less of a discount they have to offer. For companies just starting out offering discounts, the 20% mark appears to be a tipping point for consumers who were on the fence about a purchase.
About The Coupons App:
The Coupons App is currently ranked #1 by millions of app users, and adds new deals throughout the day. Deals are made available through accessing the app on multiple mobile platforms, including the iPhone, Android and also available on the Amazon appstore. Deals are added daily and go by GPS location of deals that are within the area of the user. Users receive amazing deals for their preferred stores, restaurants and gas stations right to their handheld devices wherever they go. For more information, visit http://www.thecouponsapp.com or visit the App store to download the free app. Search "coupons app."