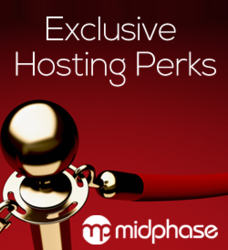 We're excited to provide this great benefit to our clients, a completely unique offer for Web hosting consumers!
(PRWEB) December 19, 2012
Midphase, an affordable Web hosting provider, is giving their customers a special gift this holiday season with their newly announced client perks program that offers exclusive deals from select partners; including marketing, design, and website services.
As a unique benefit never seen in the hosting industry, Midphase has developed the program to give customers a exclusive perks simply for being a client. Similar to a local discount card, but centered around online business, the Midphase client perks program offers discounts to a number of products and services including CakeMail, Ask Your Target Market (AYTM), SlideDeck and many more. Midphase customers can view their perks through a special dashboard accessed by using their customer login information.
"We're excited to provide this great benefit to our clients, a completely unique offer for Web hosting consumers!" said David Anderson, sales and marketing director for Midphase. "We've worked closely with our partners to ensure our clients get deep discounts on our favorite products and services. In reality, with hundreds of dollars (and counting) worth of perks, our $3 per month personal hosting plan helps you save more money than the actual cost of hosting!"
Since their inception nearly 10 years ago, Midphase has continually increased the value of their Web hosting plans by keeping prices low and including extra features at no additional cost. Their flagship product, shared Linux hosting, offers a free domain name, website builder, and 24/7 support with unlimited disk space, bandwidth and email features.
Midphase recently announced their holiday promotion offering up to 18 months free with their business hosting plan. In addition, Midphase has discounted their cutting-edge dedicated server line-up to just $1 for the first month!
"Whether the user is an individual with a riveting blog or a business with big plans, Midphase and CakeMail want to be instrumental in driving the desired results," said Francois Lane, the CEO of CakeMail. "The Perks program is a great way for service providers to showcase tools that will help users grow and stay strong; we're happy to be a partner."
Midphase reports many more online businesses are in the process of becoming a perks partner. Midphase is accepting additional applications to become a partner; businesses interested in doing so can submit their contact details on the perks page at http://www.midphase.com/perks.
ABOUT Midphase
Since 2003, Midphase has provided budget, shared, advanced and other types of Web hosting services to a wide variety of customers ranging from individuals to small businesses. Midphase is a subsidiary of the UK2 Group, a significant player in the European and U.S. Web hosting markets, providing domain registration and cheap website hosting to customers globally. Utilizing state of the art data centers, Midphase is able to provide advanced security and high availability to customers at an affordable price. Midphase is committed to providing reliable, cutting-edge products and services at a great value, underpinned with superior client support. For more information about Midphase, visit http://www.midphase.com.