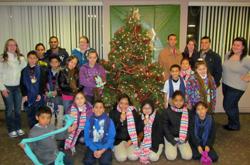 Our students really enjoy volunteering at The Gray House, and we knew this opportunity for a more personal outing would benefit both our students and the children.
Chicopee, Massachusetts (PRWEB) December 19, 2012
On Wednesday, December 12, 2012, seven Elms College students shared dinner in the dining hall with a group of children in grades 2-5 who are part of the Kids' Club at The Gray House in Springfield before taking a trip through Bright Nights.
Founded by the Sisters of Saint Joseph in 1982, The Gray House is a small neighborhood human service agency located in the North End of Springfield. It provides local residents with ESL and GED educational support, a food pantry, thrift store, and Kids' Club.
The Kids' Club is an after-school and summer program serving children ages 7-11. They are given a safe, caring environment where they can be children and enjoy the activities of childhood–playing games, doing arts and crafts, receiving homework help, reading and journaling, and taking field trips to local and regional areas of interest.
"Field trips during the school year are difficult," explained The Gray House Executive Director Dena Calvanese. "So when Elms approached us about a group trip through Bright Nights, we knew how excited it would make the children."
Elms College's student activities and campus ministry offices provided an evening of festive fun for the Kids' Club. The children had dinner with Elms students, enjoying pizza in the dining hall before getting on the athletics bus to tour through Bright Nights. Thanks to a generous donation from The Spirit of Springfield, Elms students and the Kids' Club experienced the area's premier holiday lighting experience–something that might otherwise be impossible.
"Elms has had a relationship with the Gray House since its inception, and our missions are so closely aligned," said Carol Allan, SSJ, M.A.T., Elms College director of campus ministry. "Our students really enjoy volunteering there, and we knew this opportunity for a more personal outing would benefit both our students and the children."
For more information on the Kids' Club or any of the Gray House services, call 413-734-6696.
Elms College is a co-educational, Catholic college offering a liberal arts curriculum that gives students multiple perspectives on life. Founded in 1928 by the Sisters of St. Joseph, Elms College has a tradition of educating reflective, principled, and creative learners, who are rooted in faith, educated in mind, compassionate in heart, responsive to civic and social obligations, and capable of adjusting to change without compromising principle.