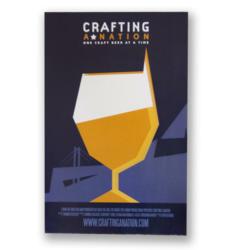 Crafting a Nation, One beer at a time.
Denver, CO (PRWEB) December 20, 2012
Crafting a Nation, a documentary movie on American craft beer and the economic revitalization of small business, has launched a Kickstarter campaign to obtain funding for post-production of the movie. Over the past three months, Executive Producer and Director Thomas Kolicko and Chief Editor Kevin Deming have diligently edited over 180 hours of footage, filmed at 80 American craft breweries, down to a tight 100 minute film. Since this timely project is solely funded by craft beer enthusiasts and industry companies, more contributions are needed to obtain top notch cinematic elements, such as a sound engineer, color correction, special effects and marketing necessary to launch the film into the public awareness and compete at film festivals.
To be part of this exciting craft brewing documentary, and support a worthy grassroots project, please visit http://www.kickstarter.com/projects/682071053/crafting-a-nation-post-production . Through January 13th, 2013, a goal of $5000 has been set by the film team. The crew thanks current sponsors for their ongoing support: Condor Cam, Go West, Something Independent, Company BE, V Strategy Consulting, Emporia Brand Consulting, Lensbaby, and Upslope Brewing Company.
About Crafting a Nation: Following the success of their previous hit Beer Culture, The Movie, which focused on Colorado craft beer, Crafting a Nation visits craft breweries in ten craft beer destinations across the country, along with following some new Colorado breweries as they prepare to open. The movie shows these breweries as they finish construction, launch their brands, and open to the public, and focuses on the struggles and triumphs of small business owners. Crafting A Nation tells stories of local economies, where a brewery serves as a catalyst to a chain reaction which occurs from breweries revitalizing a section of a city and providing jobs, and the resulting domino effect that follows with other small businesses that work together to succeed as a result of the brewery.
Crafting a Nation is a Free Mind Productions project, directed by Thomas Kolicko and produced by Courtney Cobb and Deana Mcdonald
For more information, http://www.craftinganation.com or facebook.com/craftinganation.