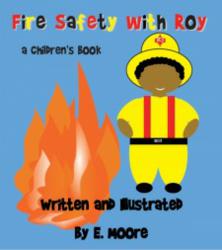 Destin, FL (PRWEB) December 20, 2012
The holidays can be filled with fire hazards, from the tangled labyrinth of electrical cords, bulbs, and lit displays to stockings dangling above fire places. Just in time for Christmas comes "Fire Safety with Roy" to assist in teaching kids how to stay safe if any trouble arises. The book, released through Bush Publishing, is the latest in a long line of life skills books from prolific children's author Ebony Moore.
Moore is the creator of "The Mya Collection" and the "Learning Life Skills with Mya" education series. She is also the founder of The Mya Foundation, which promotes literacy and provides learning resources for economically distressed children.
Margo Bush, president of Bush publishing, says, "We're proud to team up with Ebony Moore in her ongoing efforts to provide both education and resources for children. 'Fire Safety with Roy' could help to prevent injuries and might even save young lives, and that is a wonderful thing to be a part of."
In addition to teaching children the safest ways to behave and react in the event of a fire emergency, the book also teaches fire prevention, so that young readers (and those still being read to) will be less likely to be the cause of an unfortunate or hazardous event in the home.
For more information about author Ebony Moore, visit http://www.ebonymoore.com or her interactive website for children, http://www.myakids.com. For more information about the new book "Fire Safety with Roy," visit http://www.bushpublishing.com.