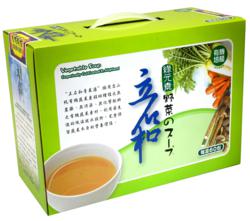 Toronto, Ontario (PRWEB) December 20, 2012
5 Veggies Soup has long been a natural healthy food for everybody. This soup follows the recipe formulated by Dr. Tateishe Kazu, a Japanese Cytologist, who used this soup to cure his cancer and some 20,000 other cancer patients. People also called this soup 5 Elements Vegetable Soup, 5 Lines Soup, Tateishi Kazu soup, Cancer curing soup, Life Saving soup, etc.
Dr. Tateishi Kazu, spent years on developing this soup and he did not privately registered or patented his hard work and great contribution, on the contrary, he published the recipe, preparation directions openly to the public.
This soup is made from 5 common and natural vegetables: carrot, shitake mushroom, radish, burdock and radish leaves. The soup is easy to prepare and the ingredients are cheap. According to Dr. Tateishi Kazu, the soup could strengthen the immune system and could prevent aging; cancer; high blood pressure; diabetes; arteriosclerosis; gastric ulcer; constipation; allergies,; etc. To get this valuable recipe, and prepare it at home for a trial.
To carry on the mission of Dr. Tateishi Kazu, TST Health Foods Inc. started importing the 5 Veggies Soup convenient packs into the North American market from Taiwan in 2010. The ingredients are all organic vegetables with no additives and preservatives. This convenient pack is easier to prepare, soaking in Thermo cup for 45 minutes only and it is ready to drink. It is so convenient that you can drink it while you are away from home. Although there is not much promotion, 5 Veggies Soup is well received in Canada and United States.
Why we use convenient packs? It is because some of the ingredients may not be available in certain countries. It is also too time consuming in preparing this soup at home. This pack is mainly for the convenience of the consumers. People can drink this soup anytime, anywhere. You can just put a convenient pack into a thermal cup with 500cc boiling water and soak for 45 minutes. If you are in a rush, you can boil the convenient pack in a glass or stainless steel pot for only 15 minutes. If you cook this soup at home, you need at least half an hour to prepare the ingredients and two hours to cook, excluding the time to buy those ingredients. This convenient pack will certainly help people to save lots of time and easier to keep healthy.
As Christmas and New Year are around the corner, 5 Veggies Soup is another nice gift option for your family, relatives and friends. You can order online and send directly to them.