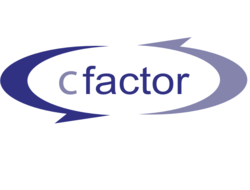 "cfactor recognizes our team's desire and commitment to lend a hand in the community and, as such, provides matched donations as well as paid time off for volunteer hours. We are proud to be partners with our employees in giving back to our community."
Saskatoon, SK (PRWEB) December 20, 2012
cfactor Works Inc. (cfactor), developer of socially infused Human Resource technologies, kicks the holidays into high gear with Secret Santa, recognized in Saskatoon as an organization that provides food hampers and toys to less fortunate families. Supporting the charity since 2006, cfactor has matched dollar for dollar every contribution made by the company's workforce, raising more than $10,000 to-date.
"cfactor is committed to supporting causes that our employees believe in," said Marian Williams, Workforce Services Director for cfactor. "cfactor recognizes our team's desire and commitment to lend a hand in the community and, as such, provides matched donations as well as paid time off for volunteer hours. We are proud to be partners with our employees in giving back to our community."
"Volunteering for this special cause is a very emotional and grounding experience for all involved," added Terri Stevens-McGhee, Senior Client Success Manager for cfactor. "It's personal for us -- many hugs are handed out on delivery day, tears and smiles are shared and a warmth is gained knowing that 600 families who would not have had a Christmas meal, nor gifts under the tree on Christmas morning, will now share the magic with their families."
Since 2007, cfactor Cronies (i.e. cfactor employees) have volunteered their time each year, starting very early in the morning right through to end of day to help pack hampers, haul boxes, sort food bags and courier hamper recipients back home with their haul. To date, cfactor Cronies have volunteered more than 180 hours to this cause.
"We are more than happy to play a part in seeing that Christmas remains a special event for families in Saskatoon," said Cary Schuler, CEO of cfactor. "We hope that our time and donations to our long time partner will help those less fortunate find some joy this holiday season."
For more information, visit Saskatoon Secret Santa to learn more about this worthwhile campaign as well as find out how you and/or your company can donate.
About cfactor Works Inc. (cfactor)
cfactor is a socially-enabled, integrated HR management, communication and collaboration suite. The cfactor system-of-record uniquely leverages existing systems while delivering engaging, productive employee experiences for hundreds of thousands of employees.
# #