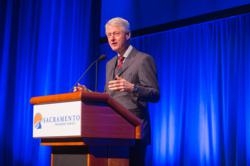 Sacramento, California (PRWEB) December 19, 2012
The Sacramento Speakers Series, a community lecture series, was honored to bring 42nd President of the United States, Bill Clinton to the Memorial Auditorium in Sacramento. President Clinton marks the second engagement of the Speakers Series' 2012-2013 season and a better venue could not have been chosen to set this unique event apart from this year's already exceptional lineup.
Immediately upon the opening of the doors, the venue was buzzing with excitement as patrons filled the hallways on the way to their seats eagerly anticipating the moment President Bill Clinton would take the stage. President Clinton's remarks merely touched the surface of what he would later expand upon throughout an extensive question and answer session, moderated by Sacramento Speakers Series Managing Principal, Mitchell S. Ostwald. The questions asked provoked the spontaneous thoughts of the President and enabled patrons to view him in a truly candid setting.
When addressing a question relating to students interested in pursuing a career in politics, the President recommended, first and foremost, that they expose themselves to different types of people and to learn to listen and speak to them. President Clinton demonstrates this as he captured the audience with his humble approach and is ability to relate with people from all walks of life.
The Sacramento Speakers Series has received a great deal of attention through local media sources following President Clinton's visit, including a video segment from Sacramento's KCRA, which featured participants from the speakers series student program, Share the Vision. The speakers series remain committed to bringing the highest caliber of speakers to evoke thought in the community.
The next speaker lined up for the series will be on January 8th at 8:00 pm as New York Times Columnist; Thomas Friedman comes to the Community Center Theater. Doors open at 7:00 pm.
For more information about the Sacramento Speakers Series and the 2012-2013 Season visit them online at sacramentospeakers.com.