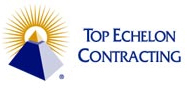 Our mission is to make it easy for recruiters to do contract staffing, Providing materials such as this whitepaper is just another way that we can accomplish that mission.
Canton, Ohio (PRWEB) December 19, 2012
As part of its ongoing mission to make it easy for recruiters to do contract staffing, Top Echelon Contracting, Inc., is offering a free marketing whitepaper to help recruiters get more contract staffing job orders.
TEC, established in 1992, is a full-service back-office for recruiters. As the legal Employer of Record for the contractors recruiters place, TEC handles all the legal, financial, and administrative details of contract placements.
Over the 20 years TEC has been in business, many recruiters have shared their most successful marketing efforts. TEC has compiled that information into the whitepaper "20 Tips for Marketing Contract Staffing." Recruiters can download this free whitepaper from TEC's website.
Through the whitepaper, recruiters can learn how to use social media and what questions to ask clients to get more contract staffing job orders. Recruiters can also find out what the easiest and most effective marketing method for contract staffing is. In addition, the whitepaper contains links to additional tools that can help recruiters establish and grow their contract staffing business.
This whitepaper is just the newest of several tools TEC provides to recruiters. The company provides a "Recruiter Training Center" on its website that provides a variety of documents, videos, and webinars to help them learn about contract staffing. TEC also has free marketing documents available that can be customized with a recruiting firm's name and contact information so that recruiters can let candidates and clients know about their contracting services.
"Our mission is to make it easy for recruiters to do contract staffing," said President Debbie Fledderjohann. "Providing materials such as this whitepaper is just another way that we can accomplish that mission."
# # #