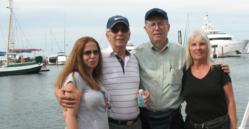 "We did so much in such a relaxing happy way that I returned relaxed, not exhausted."
Sunny Isles Beach, Florida (PRWEB) December 19, 2012
There are plenty of things for senior residents to do in Sunny Isles Beach. In addition to the programs offered by the City, an organization, called the Sunny Isles Beach Social Seniors, led by Chairman Dennis Stubbolo, offers monthly social gatherings, which give residents and guests an opportunity to come together and enjoy live entertainment, learn about important medical or financial issues, or just share some time with friends and neighbors.
With a lot of hard work and planning on Dennis' part, the SIB Social Senior group has enjoyed great success in the past year. A sampling of their activities include: History of the Titanic Luncheon, Day trip to Key West, and Winter Music Festival.
The winter season begins on December 20th at 1:00pm with a concert of Broadway tunes performed by Lourdes Valentin at the Sunny Isles Beach Government Center. Lourdes grew up in New York and Puerto Rico, and is currently making her mark on the South Florida music scene. Her music performances and vast vocal range cross over from Jazz Blues, Swing, Classical, Broadway tunes and Latin to Modern Day Pop. She is returning to the Sunny Isles Beach Community because her previous performances were so greatly received.
After the New Year, join us on Thursday, January 17th, at 11:00 am when guests will enjoy a Concert by Violinist Eddy Shraybman and Pianist Michael Bendoym. This lively duet has performed individually and as part of larger ensembles, and is always a big hit! Tickets are required for admission to this event; $3 with Sunny Isles Beach Resident ID card and $5 without.
Later in January, the Social Senior group is sponsoring a day trip to Coral Gables. On Sunday, January 27th, guests can meet at City Hall at 10am, and enjoy a day out, worry free. Let us do the driving, while everyone enjoys brunch at the famous Versailles Restaurant, and then continue on for a tour at the Biltmore Hotel. After the escorted tour, enjoy some free time on the grounds of this historic property before we head back to Sunny Isles Beach. Ticket is required for event and includes transportation, brunch, and escorted tour of Biltmore Hotel: $25 with Sunny Isles Beach Resident ID card and $30 without.
On Friday, February 1 at 1:00pm in the SIB Government Center, an up and coming 10 year old musical prodigy, Biana, will perform for the group. This is a unique opportunity that shouldn't be missed. Ticket is required for admission: $3 with Sunny Isles Beach Resident ID Card, and $5 without.
Rounding out the Winter Season, the University of Miami will send representatives who will field Questions and Answers on concerns of senior citizens. This free event will take place in the SIB Government Center Commission Chambers on Thursday, February 7 at 1:00pm.
For more information on how to join in on the fun or to make reservations for any of these activities, visit us online or contact Cultural & Community Services at 305.792.1706.