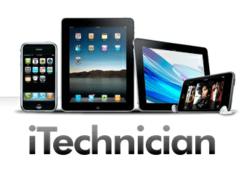 I started iTechnician.co.uk because I knew all too well about the frustration of needing iPhone screen replacement and other repairs
(PRWEB UK) 22 December 2012
iTechnician.co.uk have been getting amazing reviews for their new top quality iPhone repairs website that helps find repair centres and Technicians who offer iPad repairs, iPhone repairs and iPod repairs fast.
Whether looking for Apple repairs in London, Manchester, Birmingham, Leeds, Bristol, Belfast or anywhere else in the UK, iTechnician allows Apple owners to simply search for local repair centres by postcode.
iTechnician founder, Al commented "I started iTechnician.co.uk because I knew all too well about the frustration of needing iPhone screen replacement and other repairs. I also understand that many people in the UK need quick Apple repairs and so I wanted to provide them with a fast and reliable method of doing so".
iPhone Repairs
Many people now have an iPhone, and most know how common it is to need an iPhone screen repair after dropping or accidentally knocking the phone. It's also not uncommon to have problems like the mobile device freezing up, getting water damage or buttons not working properly and iTechnician can get all the iPhone repair that one could need from trusted centres throughout the country.
iPad Repairs
The Apple iPad is another popular device that many people have these days and like with the iPhone, there are common iPad repair that are needed such as iPad screen replacement, button replacement and repairs to frozen devices, all of which can be dealt with by searching the local area using iTechnician. iPad software upgrades can also be sought using iTechnician to search for repair centres using the postcode.
iPod Repairs
Many people suffer iPods freezing up and the devices becoming unresponsive, especially if the device is older than a year. At iTechnician, we are able to pair iPod owners with local iPod repair specialists who can get the device working again so that you don't have to be without your music for long. iTechnician has centres offering iPod Touch repairs, iPod Classic repairs and iPod Nano repairs.
Apple Mac Repairs
For Apple Mac repair, iTechnician can help because many of the Apple device repairs centres listed on the website offer specialist Max repairs as well as software and hardware upgrades to ensure that the device is always up to date with the latest releases from Apple. This includes Mac Book repairs and iMac repairs too.
One of the greatest things about getting Apple repairs via iTechnician is that one can stay in complete control of how the Apple repairs are done.
Give it a try now! For iPhone repairs or other device repairs, just search using your postcode on iTechnician.co.uk and see how easy and quick the service is!