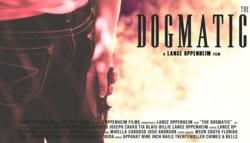 Fort Lauderdale, Fla. (PRWEB) December 19, 2012
"The Dogmatic", the latest documentary by student director Lance Oppenheim, has garnered critical recognition from two avant-garde international film competitions.
Oppenheim's harrowing look into the disturbing abandonment of dogs being dumped in the Florida Everglades and the controversial group that rescues them, has been awarded "Award of Merit" honors by The Accolade and its sister competition Best Shorts.
Both festivals showcase both emerging and established producers and directors from around the world, while Best Shorts focuses exclusively on short films.
Both recognize film, television, videography and new media professionals who demonstrate exceptional achievement in craft and creativity, and those who contribute to profound social change. Submissions are judged on the quality of their filmmaking and the depth of their storytelling, and are judged by highly qualified professionals in the film industry.
Oppenheim, a high school junior, was one of only a handful of young filmmakers to be recognized.
"Young people are often more creative and fresh than older filmmakers with unusual takes and storylines," explains Thomas Baker, PhD, chairman of both The Accolade and Best Shorts competitions, "We're looking for unique and powerful presentations."
"The Dogmatic" received an Award of Merit in the short documentary category by both competitions, and was presented with a third Award of Merit by Best Shorts in the motivational/inspirational category. Both categories are open to filmmakers of all ages from around the world.
On their creative merits, Baker says student filmmakers are judged no different than their more experienced counterparts, stating that only "notable artistic and technical productions are recognized… our staff is selective."
"I am humbled to have been recognized by both The Accolade and The Best shorts competitions," Oppenheim says, "Both competitions are amazing international showcases."
"The Dogmatic", profiles Amy Restucci, the enigmatic director of '100+ Abandoned Dogs of Everglades, Florida'. Oppenheim and his film crew accompanied her and the other members of her volunteer organization as they roamed rural neighborhoods deep in the Everglades swamp, risking their own physical well-being to look for dogs in need of rescue.
Vimeo, the video sharing site created by filmmakers for filmmakers, designated "The Dogmatic" as a staff pick shortly after the film premiered on the site earlier this year.
To date it has received over 25,000 views.
The Opp-Guide, a non-profit which connects youth nationwide with service opportunities, co-produced the documentary as part of its ongoing mission to spotlight important social issues.
For more information on Lance Oppenheim and "The Dogmatic", please contact Opp-Guide Public Relations Manager Chad Cookler at publicrelations(at)opp-guide(dot)com or call 954-881-5197.
About The Opp-Guide
Founded in South Florida in 2004, the Opp-Guide helps youth locate service opportunities they find interesting so they can continue to serve their community. In 2011 the Opp-Guide mobile App was developed and is available for free on the iTunes store. The app allows anyone to search a nationwide directory of nearly 300,000 nearby community service opportunities by zip code, category, keyword and map with personalized results.
About Lance Oppenheim
Oppenheim, 16, is a junior at Pine Crest School in Fort Lauderdale, where he started the Pine Crest film club. His previous film, "Reconciliation", was honored as the Best Documentary at the Santa Monica Teen Film Festival. Developer of the Opp-Guide mobile App, Oppenheim serves as the president for the Opp-Guide and is the developer of the Opp-Guide mobile app. He is also a member of the national youth advisory board for GenerationOn and serves on Youth Leadership Broward.