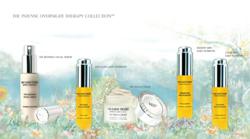 Skincare should not only improve the appearance of skin but also support and reinforce its functions. Healthy skin is the foundation to beautiful skin.
Fort Lauderdale, FL (PRWEB) December 26, 2012
Niki Saint Pierre Botanical Cosmeceuticals, an advanced luxury skin care line created with the most effective, all-natural ingredients and proprietary dermatological formulas, recently announced that its Intense Overnight Therapy Collection is available online as of December, 2012.
The Intense Overnight Therapy Collection includes The Refining Facial Serum and The Youth Crème, which work to reverse the signs of aging while the body sleeps, the point at which the body is most receptive to the skin's natural regeneration efforts.
The Refining Facial Serum, a retexturing concentrate that combines active botanical extracts, Hyaluronic Acid, Resveratrol and the maximum allowable dose of Glycolic, Lactic and Salicylic acids, uses a scientifically advanced formula that exceptionally dissolves the "glue-like" bonds responsible for holding dead skin cells together at the surface. Through the gentle yet highly-effective dissolution of dead skin cells, this multi-tasking serum boosts skin's natural collagen and elastin production overnight to result in a more youthful and luminous appearance.
The Youth Crème, an intensive repair treatment formulated with over 40 active ingredients, is a lavish, regenerating nightly-cream that designed to proactively combat the visible signs of aging while the body is at rest. The Youth Crème contains significant levels of natural active plant extracts, rare soothing flower essences, skin strengthening vitamins and antioxidants, stabilized retinol (irritation free), the proprietary YouthRestore-PhytoComplex10™ and the highest levels of anti-wrinkle Neuropeptides and skin-firming Collagen-building peptides to reinstate, maintain and protect skin's youthful look.
Designed to complement The Refining Facial Serum and the Youth Crème, and any skin care regimen for that matter, are the Daily Nutrients. The Daily Nutrients are a collection of three anti-aging, 100% active (water free) restorative serum concentrates that powerfully boost your skin care with antioxidants, vitamins, natural plan extracts and essential oils. The Daily Nutrients, an advanced vitamin C serum, allows you to customize your Intense Overnight Therapy skin care regimen by selecting Anti-Aging Daily Nutrients (dry skin types), Radiant Skin Daily Nutrients (normal skin types) and Clear Skin Daily Nutrients (oily and combination skin types).
Each Niki Saint Pierre treatment contains the maximum concentration of active key ingredients and the highest levels of vitamin C, as well as vitamins A, E, and B vitamins including all-natural botanicals, and antioxidants as Alpha Lipoic Acid and CoQ10. "My parlay into the skin care industry was really created out of personal need. There are hundreds of products on the market today, but as a consumer I found that the search was not only overwhelming, but that many products were created with a "one-size-fits-all" mentality. Your skin care regimen needs to be personalized and tailored to your skin's specific needs. When creating Niki Saint Pierre Botanical Cosmeceuticals, I wanted to offer a natural, effective and luxurious line for those searching for the right treatments for their skin condition, while offering some customizing flexibility. The Youth Crème for example, I consider to be the perfect antidote for those in search of not only the best facial cream for women, but also the best anti aging cream that both men and women can use to promote their youthful appearance; helping erase the appearance of fine lines and wrinkles. When formulating my exfoliator, I believed that the best face exfoliator should not only resurface the skin, but do so gently and without harsh abrasive effects, and created the Refining Facial Serum to accomplish both." - Founder, Niki St. Pierre.
Ranging in price from $85-$175, each product allows for 90 days of use and is online at nikisaintpierre.com.
About Niki Saint Pierre Botanical Cosmeceuticals
Niki Saint Pierre Botanical Cosmeceuticals is a groundbreaking therapeutic skin care line designed to support the skin's natural processes. Working overtime while the body rests, the products optimally support the skin's functions (i.e. cellular turnover, replenishment, tissue repair and regeneration) enabling it to function more efficiently. The line's unwavering commitment to nature, science and passion for quality ensures that its treatments uphold the highest efficacy and safety standards, without the use of synthetic additives or animal testing. All products are free of parabens, mineral oil, synthetic fragrances and coloring. For more information, please visit: http://www.nikisaintpierre.com