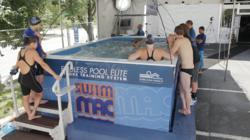 [The Endless Pool] expands my ability to provide the best technical advice possible
(PRWEB) December 20, 2012
SwimMAC Carolina wrapped up the 2011-2012 season with nearly 50,000 team points to earn the USA Swimming Club Excellence title.
The club supplements their traditional lap pool training with an Endless Pool Elite, and bested their closest competitor by over 10,000 points.
David Marsh, SwimMAC's director, has led the dominant program since he founded it in 2007, and the former Auburn University head coach has long been a proponent of the Endless Pool.
"For years at Auburn I trained my athletes in an Endless Pool, but the Elite we put in at SwimMAC takes it to another level. It expands my ability to provide the best technical advice possible," said Marsh.
The Elite Model pool allows Marsh to analyze technique and deliver instant feedback to his swimmers in a static environment. Through the use of underwater cameras and mirrors, Marsh is able to train his pupils to succeed at the highest level.
"We are very proud of what Coach Marsh has been able to do at SwimMAC," said James Murdock, founder and CEO of Endless Pools. "Our product is a great fit for their program, as they are able to train and develop elite swimmers in our Elite Endless Pool."
Marsh, who led Auburn to 10 total Men's and Women's NCAA National Championships, has shown a commitment to winning during his entire career. After coaching over 20 Olympians during his distinguished career, SwimMAC's success and dedication to perfection with the Endless Pool Elite helps carry on his standard of excellence.
The coach is such a big fan of the product, that he owns an Endless Pool Swim Spa, which combines the company's unparalleled swim current with a relaxing spa.
While Marsh was ahead of the curve, many premier swim programs and coaches are now taking note of his success with Endless Pools.
The Elite Model is now a mainstay on the decks of programs such as Harvard, Dartmouth and Indiana, and is a growing presence in the competitive swimming community as renowned coaches such as Kim Brackin, Terry Laughlin and Glenn Mills train with the help of an Endless Pool.
For swimmers who want to push themselves to the next level, at home, or in training with some of the foremost teachers in the swimming industry, the Endless Pool is the way to go.
ABOUT ENDLESS POOLS:
Endless Pools, established in 1988, has served over 20,000 customers worldwide, and offers compact, customizable pools for indoor or outdoor use. With a series of six innovative products and an adjustable, revolutionary swim current, the product can be tailored for rehab, competitive training, or family fun. Low-maintenance and environmentally friendly, Endless Pools has a product to meet virtually any need.
For more information, visit http://www.endlesspools.com, follow Endless Pools on Twitter and Facebook, or contact Rob Shaeffer at 610-497-8676.