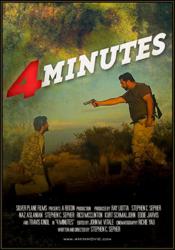 Hollywood, CA (PRWEB) December 19, 2012
The current trend in Hollywood is making films of real life events that have occurred in a combat zone or the Middle Eastern region. In "Zero Dark Thirty", (Jessica Chastain, Mark Strong) Kathryn Bigelow tells the true-life story of the hunt for Bin Laden and the journey of the SEAL Team 6 in pursuit. Director Peter Berg jumps into action with "Lone Survivor" based on a book by Marcus Luttrell about Operation Red Wings, starring Mark Wahlberg and Erik Bana. Both of these projects are based on actual events that sparked the filmmaker's interest to make the film. However, sometimes and very rarely there is a real life event that resembles a film already made.
In "4 Minutes" (Stephen C. Sepher, Nazo Bravo aka Naz Aslanian, and Rico McClinton who also co-starred in Berg's "Battleship") the plot is eerily similar to recent tragic news of SEAL Team 6 member Nicolas Checque. (CBS News)
In the film, a Special Operations Team is sent to rescue a doctor held hostage in Afghanistan. Faced with a life or death situation, the men put their mission ahead of their lives to bring their target to safety. The short film was completed earlier this year and is now starting to make the rounds on the festival circuit. Stephen C. Sepher, who wrote/directed/produced the film along with producer Ray Liotta, has expressed his deepest condolences to the family of SEAL Team 6 member Nicolas Checque. Sepher concluded that when he first wrote about a military mission to rescue a doctor gone wrong in Afghanistan, he never imagined it would materialize in real life.
CBS News Story http://www.cbsnews.com/8301-202_162-57558162/seal-team-6-member-killed-in-afghan-rescue-identified-obama-lauds-special-ops-forces/
For more information on "4 Minutes" visit http://4minmovie.com/.