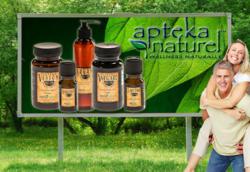 Apteka Naturel's products are unlike any others available on the market and are manufactured in the United States, using exotic raw materials that are carefully cultivated and selected from around the globe.
(PRWEB) December 19, 2012
Addressing the current growing clamor for premium, high quality natural health and beauty products, Apteka Naturel debuted its information-packed web store on Monday, December 10th. The company's products are unlike any others available on the market and are manufactured in the United States, using exotic raw materials that are carefully cultivated and selected from around the globe.
The plant origins of these natural ingredients, like varietals of wine grapes, have a propensity to grow best in highly-defined micro-climates. For instance, Apteka Naturel's Cardio Naturel™ is manufactured from a tree resin that exists exclusively in a small, remote region of Siberia. This particular dietary supplement provides a multitude of benefits to support cardiovascular health and is the very first genuine product of its kind to be sold in the U.S. The company's innovative energy-enhancement supplement, Vitality Naturel™, is manufactured from deer antler velvet that originates in France and Germany.
All of Apteka Naturel's dietary supplements are manufactured under the strictest good manufacturing practices (GMPs) in FDA-compliant facilities. All products are lot-coded and can be traced back to their original ingredients. This meticulous approach allows Apteka Naturel to continuously produce products of extraordinarily high quality.
Apteka Naturel's beauty products feature therapeutic-grade 100% certified organic essential oils and massage/carrier oils. These are manufactured with the highest quality available anywhere and are created for Apteka Naturel by an expert Certified Aromatherapist who works with farmers around the world to ensure product purity and efficacy. The company is preparing to launch a number of innovative natural skin care products.
In an effort to promote ecological health, Apteka Naturel has chosen United Fulfillment Solutions Inc. of St. Louis, MO, (United FSI) as its fulfillment partner. United FSI is unique in that its facility is located in a limestone cave more than 100' beneath the surface of the earth. The cave maintains a constant 65 degree F. temperature year round with minimal energy required, which helps protect Apteka Naturel's products. Additionally, United FSI utilizes recyclable and recycled materials in its packaging.
A portion of Apteka Naturel's revenues will be donated to ecological preservation projects around the world.
About Apteka Naturel
Apteka Naturel is an international joint venture founded by a team of Russian and American entrepreneurs. The name itself translates to "natural apothecary," which is the basic tenet of the company. It is not our intention to carry thousands of products as would a big box chain of vitamin or supplement stores. At Apteka Naturel, we carefully hand-pick the best of the best natural products, many of which contain exotic ingredients from the far reaches of the planet—Nepal, East India, Siberia, the Amazon Rainforest, and Vietnam. Our unique supplements are often breakthroughs, such as our Cardio Naturel Heart Health Supplement, the first genuine product of its kind in the United States. We believe in preserving Mother Earth contribute a portion of our proceeds to green-initiative projects around the world.
For more information, visit AptekaNaturel.com or contact Neil Evans, Marketing/Operations, at (866) APTEKA1, ext. 4, or nevans(at)aptekanaturel(dot)com.
About United Fulfillment Solutions
As the E-commerce industry continues to develop, United Fulfillment Solutions positions itself with strong roots in system development, carrier relationships, and an ISO 9001 fulfillment process to develop faster, economical, and earth-friendly means of order fulfillment. With our corporate office located in an underground facility in St. Louis, Missouri, the carbon footprint of our facility rates among the lowest in the industry. In addition, our facility requires no heating or cooling and is able to recycle more than 100 tons annually. With an additional location in Reno, Nevada, and same-day shipping, our distribution platform offers delivery within the continental United States within days.
For more information, visit UnitedFSI.com or contact Michael Greenblatt, United Fulfillment Solutions Inc., (314) 894-3200, ext. 102.