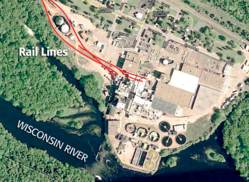 (PRWEB) December 19, 2012
Brokaw Development LLC, in conjunction with Niagara Worldwide has announced the orderly sale of specialty paper making equipment, followed by select dismantlement of idle buildings as well as the planned redevelopment of the former Wausau Paper Mill Complex in Brokaw, Wisconsin. The 52 acre plant, located 5 miles north of Wausau, Wisconsin, produced premium print and writing paper for more than 100 years. Details on the plan, sales and associated auctions of tools, materials and extensive plant systems will be available after the first of January 2013.
"Brokaw Development LLC is in the process of conducting initial tours of the former plant and welcomes any interest, ideas or partnerships in its reuse. The redevelopment possibilities are wide and varied based on domestic and international inquiries", said Eric J. Spirtas, President of Brokaw Development LLC and Niagara Worldwide. Several local manufactures have shown interest in parts of the facility for storage, active logistics and some specific re-manufacturing, while two groups are considering the complete purchase of the facility.
Don Jacobsmeyer, Director of Real Estate for NIAGARA Worldwide and its client BROKAW Development, reports that the area is ready for commerce. "It appears that this is the right time and location for redevelopment in this area," says Jacobsmeyer. "We are speaking to several groups that have shown significant interest and you will find me spending a lot of time in Brokaw to see this project through."
NIAGARA Worldwide LLC; acquires, manages, markets and sells for final disposition idle industrial property and assets around the world on its own account and for the benefit of other international companies. Properties procured by NIAGARA Worldwide vary in size, scope and type, requiring very specific redevelopment efforts designed by our growth management team to suit the specific location and respective needs of the community and its specialized clients.