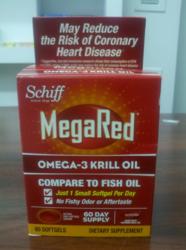 MegaRed® has is one of the most popular brands in the Omega-3 category and we are excited to offer this product to our customers seeking to maintain their cardiovascular and joint health.
Brooklyn, NY (PRWEB) December 20, 2012
EverydayVitamin.com, an online retailer of branded vitamins and dietary supplements, announced that it carries the popular Omega-3 and Krill Oil brand, Schiff MegaRed® Omega-3 Krill Oil. Everyday Vitamin adds this brand to its abundant array of leading Schiff vitamins and supplement products.
"We are very pleased to add this fine product to our vast array of Omega-3 supplement choices and top-of-the-line Schiff products," said Wayne Xu, Vice President of Everyday Vitamin Nutrition LLC. "MegaRed® has is one of the most popular brands in the Omega-3 category and we are excited to offer this product to our customers seeking to maintain their cardiovascular and joint health."
EverydayVitamin.com adds MegaRed® to a line of strong Schiff products such as: Move Free® Joint Care, Prostate Health, Super Fruit, and other general vitamins and supplements for men and women.
About Omega-3 Krill Oil
Krill Oil is made from tiny shrimp-like species that live in the cold waters of the Antarctic Ocean.
Krill oil has an abundant source of three main nutrients: Omega-3 fatty acids, phospholipid-derived fatty acids (PLFA), and astaxanthins, a critical carotenoid antioxidant. These ingredients have all been shown in clinical studies to have very crucial benefits to support cardiovascular, metabolic, and join health. Krill oil's fatty acids are readily absorbable and into human cells in phospholipid form, making Krill oil much more soluble than fish oil. PLFA form the structure of cell membranes, and the fatty acids are easily recognized and utilized by the body. Krill oil's phospholipids prevent it from having the fishy after-taste that fish oil does.
As essential for our bodies and found primarily in fish, Omega-3 fatty acids eicosapentaenoic acid (EPA) and docosahexaenoic acid (DHA) play an important role in and have been shown in numerous clinical studies to:

Reduce triglyceride levels
Maintain cardiovascular health by lowering the risk of heart disease
Reduce stiffness and joint pain in Rheumatoid Arthritis sufferers
Boost pre-natal health for expecting mothers
Reduce inflammation, which is also a key component in asthma
Maintain cognitive health: further studies are needed to validate effectiveness for ADHD, Alzheimer's disease, dementia, and depression.
When compared to Omega-3 fish oil, another brand of Omega-3 Krill oil was demonstrated in a 2004 randomized, placebo-controlled clinical study to be more effective at reducing glucose, triglycerides, and low-density lipoproteins (LDL) levels.
A 2003 double-blind and randomized trial showed that the same brand of Krill oil was significantly more effective at reducing premenstrual symptoms and dysmenorrhea (menstrual pain) in women of reproductive age compared to omega-3 fish oil.
Astaxanthins are essentially antioxidants that protect cells against free radical damage. They are primarily found in certain types of fish and algae, and may have benefits for anti-aging, skin health, reducing high blood pressure, and eye health.
Over the years, Omega-3 Krill Oil has increased in popularity among consumers and garnered praise and support from renowned nutrition-focused physicians like Dr. Mehmet Oz and Dr. Michael Eades, and has generally received positive media attention.
As a quality supplement manufacturer, Schiff ensures that its products follow Good Manufacturing Practices (GMP) and are rigorously and routinely tested for purity, quality and contamination with bacteria and heavy metal.
Krill oil has minimal side effects, but should be avoided if a potential user is pregnant, has undergone surgery, has an allergy to or cannot consume shellfish. Potential users should first consult with their doctors before taking this product.
Bayer Healthcare Acquires Schiff Nutrition
In October 2012, the Consumer Care Division of Bayer Healthcare, a leading healthcare and pharma company, agreed to purchase Schiff for USD$1.2B by the end of the year. This deal comes after Schiff projected net sales for 2013 to increase between 43-46% with new brands, including acquisition of Airborne®.
Disclaimer: Please note that these statements have not been evaluated by the Food and Drug Administration. This product is not intended to diagnose, treat, cure or prevent disease.
About Everyday Vitamin
Everyday Vitamin Nutrition LLC, is a natural health company based in Brooklyn, NY and online retailer that aims to promote nutrition and health through the sale of vitamins and supplement products, herbs and homeopathic remedies. These products include vitamins, minerals, dietary supplements, diet and weight loss teas that provide numerous health benefits that assist in weight loss management, exercise nutrition and improving overall health.
Everyday Vitamin carries hundreds of well-known, trusted brands such as Genesis Today, Life Extension, Nature's Way, and Now, which have been proven safe and effective by solid scientific research.
Visit Everyday Vitamin at: http://www.everydayvitamin.com for more information.