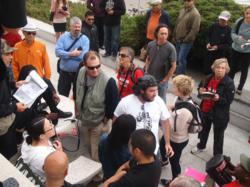 By reducing one's credit line, the banks can't cause a mortgage default that otherwise wouldn't happen.
San Francisco, CA (PRWEB) December 19, 2012
After nearly one year of encountering the foreclosure crisis head on, author Gini Graham Scott released a series of videos commemorating her story, which is part of a national crisis in which over 12 million people have faced underwater mortgages or foreclosures. As Gini Scott describes in these videos, which include scenes of several hundred protestors at Wells Fargo's annual shareholder meeting in San Francisco, she managed to successfully sell her house and move to a rental by the ocean in San Francisco after her credit line was reduced by Wells Fargo and the Bank of America, so she was forced to default on her mortgage. However, along the way, she learned and talks about tips other homeowners can use to delay the foreclosure process and save up money so they can move on. The first video is The Wells Fargo Protests and Problems with Wells Fargo and the Bank of America.
Others in the series include: The Problem with Wells Fargo and the Banks of America Dealing with the Foreclosure Crisis, and How to Deal with a Foreclosure.
Gini also wrote about her experiences in Living in Limbo: From the End to New Beginnings, which describes her day-to-day experience of nearly running out of money and highlights her amazing recovery after selling her home.
Having come through the foreclosure crisis successfully, Gini is now working on writing several books and scripts for clients, including one on problems in the criminal justice system and how to fix them: Innocence Destroyed. It is with an author whose wife became an innocent victim of a vindictive prosecutor after some neighborhood kids falsely accused her of trying to run one of them over. The book will be completed in January.
Gini is the founder of Changemakers Publishing and Writing and the author of over 50 published books. She received a Ph.D. in Sociology from the University of California in Berkeley, a J.D. from the University of San Francisco Law School, and M.A.s in Anthropology, Mass Communications and Organizational/Consumer/Audience Behavior and Popular Culture and Lifestyles at California State University, East Bay. She is getting an additional MS in Recreation and Tourism in 2013 and writing her final thesis on finding funds for independent films, which will be published by Hal Leonard. She has spoken about the topics of her books to many groups and the media, including appearances on Good Morning America, Oprah, and CNN.
Besides writing and publishing her own books, through Changemakers Publishing and Writing, Gini Graham Scott writes books, proposals, and scripts for clients, and she has additionally written and produced over 5 dozen short videos which are featured on the company website at http://www.changemakersproductions.com and on the Changemakers Productions' YouTube channel.