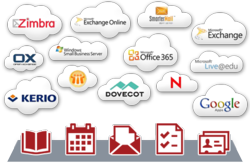 Redmond, WA (PRWEB) December 19, 2012
BitTitan, Inc., an industry leader in cloud based email solutions, announces the immediate availability of automated email migrations from all supported systems to Microsoft Exchange Server 2013 directly from its MigrationWiz.com web interface.
Leveraging extensive expertise in email technology, the company expands its enterprise email migration solution to users moving to Microsoft's new Exchange Server 2013 offering. Users can now migrate from VMware Zimbra, IBM Lotus Notes, Google Apps, Microsoft Office 365, Novell GroupWise, IMAP, POP, and previous version of Microsoft Exchange with the same battle-tested application thousands of organizations have come to depend on.
Key Product Features:

Migrate Anytime, Anywhere: MigrationWiz operates the largest migration farm on the planet with data centers on four continents.
Simple Web-Interface: Users can sign-up, configure, and initiate a migration in a matter of minutes with no prior experience.
Cost-Effective: Easily predict costs by paying a fixed fee for each mailbox migrated.
Secure: The automated solution eliminates the need for human interaction with mailbox credentials, and supports SAS 70/PCI environments.
While testing the product, Jaap Wessellus, an independent consultant from The Netherlands and Exchange Server MVP, evaluated the MigrationWiz solution to migrate mailbox data to a new Exchange 2013 environment. "Migrationwiz helped me to migrate from one Exchange 2010 environment to a brand new Exchange 2013 environment without any issues, fast and easy," said Wessellus. "Whenever possible I'd like to use Migrationwiz for Exchange migrations."
MigrationWiz's solution can be easily integrated into complex migration projects or to migrate a single mailbox. Advanced features allow users to customize projects by selecting a data center location, scheduling the migration migration, or specifying administrative credentials.
MigrationWiz
MigrationWiz provides on-demand mailbox migration services through a fully automated cloud-based solution that can be accessed at anytime from anywhere to perform a seamless mailbox migration on demand. Without the inconvenience of additional hardware or software to install, this patent pending technology allows the consumer to sign-up, configure and initiate a migration in a matter of minutes with no prior experience. For more information about MigrationWiz visit, http://www.MigrationWiz.com.
BitTitan, Inc.
BitTitan, Inc. is a Redmond, WA based company that provides software as a service (SaaS) solutions to individuals, consultants, system integrators, hosting providers and telecoms. Since 2007, BitTitan provides innovative and automated self-service solutions to streamline the adoption of new communication systems. BitTitan is a trusted brand working with organizations, governments, and healthcare providers in over 50 countries. For more information on BitTitan, visit http://www.BitTitan.com.
###
BitTitan Press Contact:
Katrina Snow
press(at)BitTitan(dot)com