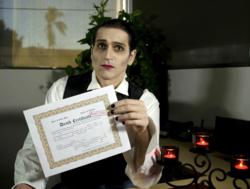 It was a great deal of fun to portray such a macabre and mysterious character, and hopefully that segment added some comedic relief and additional entertainment value to the Banking Bad show
San Deigo, CA (PRWEB) December 27, 2012
The "Banking Bad" YouTube channel just recently completed the second video in a series of short films that addressed a shocking banking situation with a colorful cast of characters. Banking Bad Episode 2 features a quirky banker (with less than personable customer service skills), a pair of sexy vampires working at a mortuary, and a comedian. All of these characters work in an innovative and creative collaboration in order to help tell the tale of a outrageous banking experience, which is based on actual events. The Banking Bad channel has been featured on Bloomberg's Businessweek and has been written up in MSN Real Estate.
Nicholas George, author of the film making book "Film Crew: Fundamentals of Professional Film and Video Production," makes his contribution to the series by playing a modern day vampire type who works as an undertaker. "It was a great deal of fun to portray such a macabre and mysterious character, and hopefully that segment added some comedic relief and additional entertainment value to the Banking Bad show." said George, "But it was also a great feeling to be a part of a project that brings attention to economic and social issues that impact so many people on a personal level."
The Banking Bad YouTube channel appears to be steadily becoming a platform for many disgruntled consumers to voice their own experiences with the banks. Banking Bad has also teamed up with homeowners advocate Steve Triebernig, who hosts the Facebook page "Keep Bank of America Honest". Steve Triebernig appears in the latest episode of Banking Bad and has been instrumental in helping numerous homeowners in dealing with the banks in order to save their homes through his company All Things Real Estate. Steve's company has been nominated for a Better Business Bureau Integrity Award and is located in Minnesota.
The Banking Bad YouTube channel started recently with zero subscribers, but had quickly gained viewership. The channel now has over 31,000 views and close to 1000 subscribers. As more and more people use social media as a way to reach out to large corporations and try to have a positive influence on the customer service they receive, Banking Bad intends to help give a voice to the average consumer. Consumers are welcome to use the Banking Bad Facebook page or leave comments on the Banking Bad YouTube channel or website.
About Banking Bad:
The Banking Bad website and YouTube channel are dedicated to educating and informing the public of strange or immoral activities involving banking institutions. Banking Bad's social media experience including the Banking Bad Twitter page allows users to join the conversation and exchange information about their latest loan modification or banking pitfalls or successes.