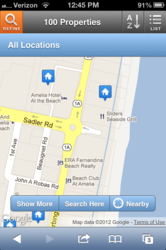 This realty company is capable of fast turnarounds.
Amelia Island, Florida (PRWEB) December 21, 2012
Chaplin Williams has a leading Amelia Island REO department with skilled REO asset managers to people to help manage the process. An Amelia Island REO asset manager can help to sell the property in a small time frame. This agency is known for its prompt and effective communications and accurate valuations. Not only is the agency known for REO transactions but also Amelia Island short sales, Amelia Island bank owned homes and Amelia Island foreclosures.
REO brokers can manage all aspects of the property. They are responsible for determining occupancy status and starting evictions if necessary. The Cash for Keys program is popular with brokers because it more convenient for the beneficiaries of the property. After a failed foreclosure, the property is secured and re-keyed if necessary.
This realty company is capable of fast turnarounds. In fact, Chaplin Williams Realty can obtain contractor bids and termite inspections in three business days. Emergency repairs can be made within 24 hours. REO asset managers also arrange for the condition of the home to be documented with digital photos. These digital photos may be added to the Multiple Listing Services (MLS) within 24 hours. The properties are listed to numerous websites and syndications to improve visibility and chances of a faster sale.
Many REO properties are not well-maintained. The lawns are not manicured and are not properly winterized. These tasks can be handled by the realty company. The utilities can also be turned on and billed to the realtor's office. The landscaping is assigned to a contractor, and signs are posted on the property to let people know that the property is Bank Owned. Signs are also posted to prevent trespassing while on the property.
The company will send a list, including the property, to a number of subscribers on the Investor and Foreclosure Hotline. Everyone in the buyers' database will also receive an email. This gives exposure to over 4000 people. In addition to these responsibilities, Chaplin Williams Realtors will also execute contract negotiations and document preparation.
The services are extensive and include the completion of an accurate Broker Price Opinion (BPO). The interior, exterior and home photos of comparables are included with this service. Amelia Island asset managers know all the latest marketing techniques and how to sell a REO property. The goal of any asset manager is to sell a property fast for a low price.
Buyers who don't mind a home in need of repairs will find properties are an affordable solution to home ownership. Agents can help both buyers and sellers with REO properties after foreclosure auction are no longer successful. Whether it is REO Amelia Island condos or Amelia Island homes, Chaplin Williams can help with the process.
About Chaplin Williams
Formed 14 years ago, partners Dee Chaplin and Hugh Williams have established Amelia Island's most highly respected real estate organization. Contact Chaplin Williams at 904-261-9311 or online at http://www.ChaplinWilliams.com