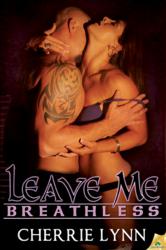 "Readers know that Samhain is the place to go for every kind of romance, and they are proving that point in the numbers." - Lindsey Faber, Samhain publisher
Cincinnati, OH (PRWEB) December 21, 2012
International publisher Samhain Publishing® today answered a question frequently asked by authors at conferences, seminars, and online: so, what's really selling? The result: romance of all different types.
"At the request of our authors and aspiring Samhain authors, we dug into the results for our most recent month, and were excited to find that not one type of genre or subgenre was performing well – but multiple types of romance," said Lindsey Faber, publisher, Samhain Publishing. "Readers know that Samhain is the place to go for every kind of romance, and they are proving that point in the numbers."
That said, there were definite trends that indicate current reader interests, according to Faber. The top five best selling 2012 Samhain romance titles in November were: "Leave Me Breathless" by NYT/USA Today Bestselling author Cherrie Lynn (contemporary romance); "Damaged Goods" by Lainey Reece (erotic romance); "Getting Hotter" by Elle Kennedy (military romance); "Rocky Mountain Angel" by Vivian Arend (contemporary western); and "Right Wolf, Right Time" by Marie Harte (paranormal). Sensual romance is still holding strong in the wake of the worldwide fame of "Fifty Shades" books, but readers are clearly enjoying their romance with a different twist.
"At Samhain, we offer books that fit within a wide range of interests and heat levels, so that readers can explore new genres while always being assured they will get a top-quality reading experience," explains Faber. "That's why at Samhain, it's all about the story."
To learn more about all of Samhain's titles and order books at a special discounted rate, visit them online at http://www.samhainpublishing.com.
About Samhain Publishing
Launched in 2005 with a vision of bringing extraordinary fiction to compulsive readers (who sometimes can't wait for a book to actually be printed), Samhain Publishing® is an international publisher of e-book and traditional print fiction. One of the most prominent voices of original e-book fiction, Samhain represents some of today's brightest authors of romance and horror fiction. To learn why at Samhain "it's all about the story…", visit Samhain Publishing online at http://www.samhainpublishing.com.
# # #