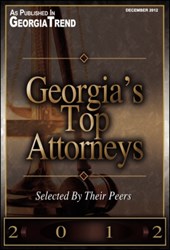 Marietta, GA (PRWEB) December 18, 2012
Attorney Andrew W. Jones of Marietta, Georgia has had the great honor of being recognized by Georgia Trend, which has included him in the selection of "Georgia's Top Attorneys" for 2012.
Georgia Trend is Georgia's only statewide business publication; it is published every month with the addition of Business Georgia and the Small Business Guide. Georgia Trend reaches more than 50,000 subscribers and has become heavily relied upon by the state's most influential business men and women for the past 25 years. The publication strives to provide a balanced analysis of business and political trends throughout Georgia; it seeks to create an open forum for local and state leaders to voice their opinions on important issues, and it spotlights those Georgians that are making a positive impact on the state of Georgia.
In the December 2012 issue of Georgia Trend, the publication has provided the 10th annual listing of the "Legal Elite," otherwise known as Georgia's top attorneys, as selected by their peers. Georgia Trend's methodology involves mailing ballots to thousands of attorneys who are members of the State Bar of Georgia whose practice areas align with the attorneys they were featuring, and ballots were also available to be downloaded from their website.
The top attorneys listed were determined only by other attorney's votes, and they could not pay to be placed on the list, and the list is not tied into any paid advertising. The ballots were tallied and the names were officially verified by the editorial staff at Georgia Trend.
Marietta personal injury lawyer Andrew W. Jones was honored to be included in Georgia Trend's 2012 Legal Elite and to be recognized as one of "Georgia's Top Attorneys." Attorney Jones said this was quite an honor for him, and the fact that Georgia Trend included him in the selection of "Georgia's Top Attorneys" signals that his constant effort to deliver excellent work has paid off. "It is gratifying to be recognized in this way."
Shortly after he was published in the selection of Georgia's Top Attorneys, the American Registry added attorney Andrew W. Jones to the "Registry of Business Excellence™". The American Registry designed a recognition plaque to commemorate this distinct honor.
The American Registry is dedicated to recognizing excellence throughout the nation. They accomplish this by identifying the nation's top performers, from family physicians to trusted legal professionals, all of who have one thing in common; they have been rated and ranked the best in their field of expertise. Once these professionals have been recognized for their outstanding achievements, they are added to The Registry – The American Registry of Business Excellence.
Andrew W. Jones practices personal injury law in Marietta, Georgia. Over his esteemed career, he has served as lead and co-counsel in several major jury trials including cases against Ford Motor Company, General Motors, Mitsubishi Motors Corporation, Wal-Mart, Georgia Pipe and Cresco Lines. He has also represented clients against Home Depot, Isuzu, Honeywell, Georgia Pacific and many other large corporations where he has secured millions of dollars of relief on behalf of his clients. He was named a Georgia "Rising Star" by Atlanta Magazine in 2005 and 2007, he received the maximum Avvo rating with a 10 out of 10 "Superb" rating, and he is AV® rated by Martindale-Hubbell®. To learn more about attorney Jones credentials and to schedule a consultation with the firm, please call (770) 427-5498 or visit the firm's website online at http://www.awjlaw.com.