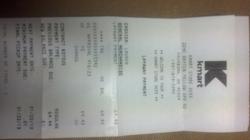 This is the time of year to give back.
Fairborn, OH (PRWEB) December 20, 2012
With the holiday season in full gear DDF became someone's secret Santa. "This is the time of year to give back," says the owner. DDF went to the local K-Mart and paid for a strangers Christmas gifts that where in lay-a-way. Providing a pleasant surprise for someone when they come back to pay for their kids gifts. "Anyone with kids knows that the kid comes first, then the parents. We wanted to give a chance for some parent to spend money on themselves this year."
Small businesses like DDF have been hit the hardest in this economy but it is nice to know they are still going above and beyond to help others out. This act of kindness falls into DDF's philosophy of helping people with what they need. When a customer comes to their store they make sure to find out the needs of the customer so they can better serve them. Great customer service mixed with low overhead has made Dayton Discount Furniture successful.
ABOUT:
Dayton Discount Furniture Warehouse is your store for discount, quality, new home furnishings. We only meet customers by appointment everyday at our 6,500 sq. ft. warehouse in SW Dayton, Ohio. Visit us at http://www.daytondiscountfurniture.com or Call today to see why we have the best mattress and furniture prices in the Miami Valley Area!