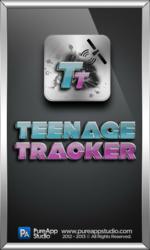 What we offer to parents is a unique way to know what their children (teenagers) are doing at any point of the day or night," says the company. "Basically our app is unique in every aspect - there are simply no similar apps exist."
San Pedro de Alcantara, Malaga, Spain (PRWEB) December 20, 2012
The Teenage Tracker app is currently in development by PureApp Studio, and is designed to let worried parents track their teenagers through their cellphones by allowing parents to hear, see and pin point their children location on up-to-date map. The app will be available before the end of 2012 through the Android / Google Play Market.
Parents will always worry about their children, but it becomes a bigger challenge to take care of your teenagers when they develop the need to be out and about at all hours. Ever wonder where your teenager might be? If they're alright? The Teenager Tracker app, created by PureApp Studio, is seeking to help ease the constant worries of parents everywhere, by giving them the option to track their teenagers right through their cellphones.
It works by simply installing the app on two phones – the phone you want to track, and the one you'll be tracking from. By connecting the monitoring cell phone to the teenager's cell phone using an ID and PIN# combination you create, you'll be able to use the application's monitoring features to find out where you teen is at any time, without having to call them up or send a text. Mobile tracking has gone to a new age: parents can listen in on the environment around the teen's phone, activate the camera to see what might be going on, or track the phone on an easy-to-read Google Maps feature.
The app has several prominent features that make it a quality product – it's easy to setup and use, offers a safe and secure connection between phones, record live audio and video, has effortless navigation and location tracking systems, and even gives you the ability to track your teens without interrupting their activities or being labeled as annoying or bothersome.
Some of the features included with the Teenage Tracker app are:
Easy Setup and Use
Safe and Secure Connection
Unobtrusive Parental Control Features
View Live Video Feed
Record and Store Live Video and Audio
Effortless Navigation System
Accurate Location Tracker
PureApp Studio, a newly formed app development company known for their out-of-the-box thinking. With a full team of programmers, designers, and marketers, the mission of PureApp Studio is to develop applications that are useful and fun with a great design and rock solid code foundation.
While Teenage Tracker may still be in testing, the team behind PureApp Studio is working diligently to ensure that Teenage Tracker can hopefully be publicly released before Christmas – just in time for parents to snoop on their teenagers New Years Eve antics. To learn more about Teenage Tracker, head over to their Website or visit their Facebook page. You can also see their promo video at PureApp Studio's YouTube Channel