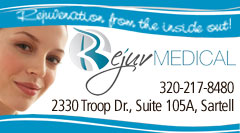 You don't have to be a boot camp pro to work out with us!
Minnesota (PRWEB) December 22, 2012
Rejuv Medical is offering three tiers of boot camp classes for residents of Minnesota. Added classes may append Rejuv Medical's already popular class schedules as a result of the already popular "get healthy" 2013 New Year's resolution. Members of the media are being invited to attend one, or all three, of Rejuv Medical's boot camp classes for free to help the local community understand what fitness programs are available to them.
"People have many choices to help them work out and get healthier come 2013," said Dr. Joel Baumgartner of Rejuv Medical. "We are putting the information on our boot camp classes out so people understand that we have three levels. You don't have to be a boot camp pro to work out with us!"
Rejuv Medical's beginner boot camp class is designed to boost energy levels through light to moderate exercises, and to also help people burn calories with ease. The company's intermediate boot camp helps people develop both their technique and a new form geared for strength, speed, and endurance. Finally, Rejuv Medical's advanced boot camp helps people rebuild muscle, balance, stamina, and inner dexterity at a warrior's pace. More information on all three levels can be accessed by clicking here: http://www.rejuvmedical.com/pages/FitnessBootCamps/
For an interview with Dr. Baumgartner, or to schedule a media tour of the facility, please contact Rejuv Medical at (320) 217-8480 or Helene Vece, Media Manger, at (702) 749-5925.