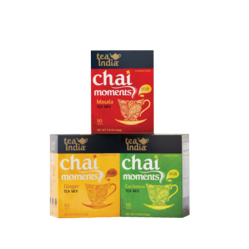 Bringing the traditions of India and a true authentic cup of chai in a convenient on-the-go option
Anaheim, Calif. (PRWEB) December 19, 2012
Tea India®, a consumer brand of Harris Tea Co.®, has launched Tea India® Chai Moments™, convenient instant tea mixes allowing consumers to enjoy chai on-the-go. The product line can be found in fine South Asian markets in the United States and Canada.
Tea India® has become a leading brand by catering to the thriving North American South Asian community for over 25 years. With a growing South Asian population and the constant hustle and bustle of everyday life, Tea India® identified a growing need for convenient on-the-go teas. Tea India® Chai Moments™ is an instant chai mix that captures the authenticity of Indian chai flavors with natural spices and no preservatives; all it needs is hot water.
"After reviewing the importance of convenience for today's consumers, we determined there was a need for a genuine instant tea mix for true chai fans, therefore Tea India® Chai Moments™ was developed" said Chirayu Borooah, President of Harris Tea Co. "We wanted to bring the traditions of India and a true authentic cup of chai in a convenient on-the-go option that could be enjoyed both in and outside of the home."
Tea India® Chai Moments™ instant tea mixes, which are made right here in the United States, include three flavors: spicy and soothing masala, aromatic and comforting cardamom and warm and reviving ginger. Each carton contains 10 packets to enjoy at home, work or on the go. The new product line is also gluten free which will appeal to consumers that have special dietary restrictions. Other products in the Tea India® brand portfolio include: Premium Orange Pekoe Black Tea, Masala, Cardamom and Ginger Chai tea bags, Mamri Loose Leaf Teas and Tea India Mantra.
About Tea India®
Tea India®, a consumer brand of Harris Tea Co.® since 1985, combines unique flavors, local tastes, and family traditions that are a testament to India's vast cultural plurality. Harris Tea Co. has used its 70 years of tea blending experience to create an authentic range of true and flavorful chais that bring family and friends together.
Read more at: http://www.teaindia.com
About Harris Tea Company®
Harris Tea Company® is the leading producer of private label black, green, herbal, and specialty teas and iced tea mixes. Key attributes for Harris' success are commitment to the highest quality products and customer service. Harris Tea Co.® provides a comprehensive private label tea solution for the retail and food service industries in North America and the United Kingdom.
Read more at http://www.harrisfreeman.com