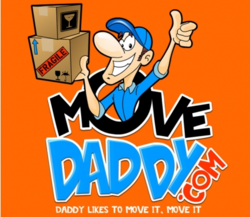 I give my 100% satisfaction guarantee on every move. That's Daddy's Difference!
~ Sean Palmer
President of MoveDaddy
Phoenix-Mesa, AZ; Houston, TX; San Antonio, TX; Chicago, IL; Philadelphia, PA (PRWEB) December 20, 2012
Move Daddy Enterprises, LLC has teamed up with PageViews Interactive LLC to strengthen its online presence and reach currently under-served communities in need of expert moving and storage specialists. Already providing movers Birmingham AL residents have come to appreciate, the company also services selected Texas communities.
There is more to MoveDaddy than traditional moving companies can offer. Although these experts do offer standard moving services that transport clients' belongings from one location to another, the company specializes in the extra services that make the process so much easier. Clients have the option of adding stops to the move, which makes it easy to pick up stored items or combine households. Why pay for two moving companies if one mover can handle all the items?
MoveDaddy workers recommend their "pack and move" option, which offers clients expert packing and stacking services for all types of belongings. Clients may furnish their own boxes or purchase them from MoveDaddy at discounted prices. For the truly stress-free move, the company now features a "pack-move-unpack" service. Customers simply designate where they want items to go in the new location, and the movers pack their personal belongings at the old home, move them to the new location and then unpack the items for them at the target destination.
Clients also appreciate the pack and load service for those who have the moving truck but cannot find helpers, MoveDaddy brings the movers who will load up a customers truck and send them on their way.Also for help unloading a moving truck, MoveDaddy movers are ready to serve. Even if a customer is just thinking of moving the furniture in their home from one room to the next, let the expert movers do this at a greatly reduced cost.
MoveDaddy intends to assist clients in the Birmingham, AL, area as well as Texas' Dallas and Fort Worth areas. New areas are added frequently, so check with the company prior to a move.
About PageViews Interactive LLC
PageViews is based in Scottsdale, AZ. In business since 1998, the company specializes in providing its clients with top search engine rankings and organic website traffic. Contact PageViews by phone at 480-556-9752 or visit the website at http://www.pageviews.com.
About Move Daddy Enterprises, LLC
MoveDaddy is a family-owned business that employs movers Birmingham AL residents love to hire. Founder Sean Palmer is a moving industry insider who brings his expertise into play for the benefit of the company's clients. "The customer always comes first" is MoveDaddy's motto. Call the company at 855-466-8332 or visit its website at http://www.movedaddy.com.