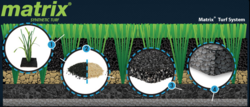 Katy, TX (PRWEB) December 19, 2012
Since 2006, one of the premier school districts in Texas has installed a total of fourteen running tracks and seven multi-purpose athletic fields, including the synthetic football field at Rhodes Stadium Katy ISD's district stadium. All of the fields and tracks have been completed by the Austin, Texas-based Hellas Sports Construction – the same sports contractor that was recently chosen to install Matrix Turf at Katy ISD's seventh high school.
Katy ISD is one of the fastest growing districts in the US, now with more than 64,000 students in over fifty schools and expects to reach over 75,000 in the next five years. The new high school, unnamed at this point, will provide relief to the six others in the district – some of which are at or near capacity.
"Katy ISD prides itself on the quality of our facilities," said Scott K. Walker, Katy ISD's Project Manager. "[We] strive to maintain equality for all students regardless of the campus they attend."
Hellas Sports Construction will install their newest and most advanced synthetic turf system, Matrix Triad, to be used for football and soccer at High School #7. Completion of the half-million dollar construction project is being managed by Hellas Sports Construction's Project Manager and Scott Walker, Katy ISD's Project Manager, and will be completed well before the new high school opens next fall.
"I personally take great pride in the relationship Hellas has established and maintained with Katy ISD," commented Reed J. Seaton, President and CEO of Hellas Sports Construction. "We look forward to another successful project and many more to come."
Hellas Sports Construction has a strong reputation for on-time and on-budget delivery of sports construction projects. The Austin-based company also specializes in manufacturing synthetic sport surfaces for field sports, running tracks and tennis. Hellas controls all business operations from their corporate headquarters to deliver quality athletic surfacing products directly to customers. For more information on Matrix Turf, visit: [http://www.matrix-turf.com __title__ Matrix Turf]