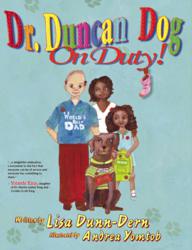 Kids love dogs. Kids love apps. Parents love apps they can read with their kids. Put a dog and an app together and you've got the perfect Christmas gift for all the little ones ages 3 to 9 on your list!
Los Angeles, CA (PRWEB) December 20, 2012
Kids love dogs. Kids love apps. Parents love apps they can read with their kids. Putting a dog and an app together creates the perfect last-minute Christmas gift for little ones ages 3 to 9! Remember Duncan, the family's dog that visits children in the hospital every week? Well, he's back and better than ever. Now 'Dr. Duncan Dog on Duty,' the popular children's book by Lisa Dunn-Dern (Dern Good Books), is an interactive iPad and iPhone application!
A young girl and her family are depicted in glowing color in the app, released by premiere digital publisher Auryn, Inc. Each person in this family has a job, even the pets. Duncan's job is to bring cheer and comfort to children in the hospital. To prepare Duncan for his weekly hospital visit, the young girl helps give him a bath, puts on his Therapy Dog vest, and stocks his backpack with the things he needs for his weekly visit – including treats, of course.
At the hospital, Duncan is greeted by the hospital staff and various children. He is even asked to make a special visit to a granny on the adult floor.
The children's story affirms the idea that everyone (even the family pet) can be of service and has something to share. Children will be introduced to the healing and comfort brought to people of all ages by therapy dogs.
Key features of the app include:

Personalization of voice and text.
Kids can become their own narrator or listen to their parents narrate the book.
Interactivity allows kids to personalize the sentence, create new action words, and sharpen their vocabulary skills.
There are three ways to read the book.

'Read to me' – Listen to the narrated story while the text is displayed karaoke-style. After the narration finishes on a page, the child can interact with objects till ready to move to the next page.
'Read myself' – No narration, but the child can touch a word to hear it being spoken aloud.
'Auto Play' – same as 'Read to Me,' but the page advances automatically once the narration is finished.
All three ways of reading can be played in one's own voice with personalized text in every sentence.
Beautifully illustrated by Andrea Yomtob, the 'Dr. Duncan Dog on Duty' book received glowing reviews from media, readers, and therapy dog handlers. All illustrations are vividly displayed in the app. The app "impresses me greatly." --Aghoo Review.
Dr. Martin Luther King's daughter, the late Yolanda King gave the book high praise when it was published in 2007.
The 'Dr. Duncan Dog on Duty' iPad app is available from the Apple iTunes app store only. It may be purchased using Apple or PC, but will only work on iPad/iPhone. Link to iPhone app: http://bit.ly/iphdrd. Link to iPad app: http://bit.ly/qv8iEU. Price is $2.99.
Still earning his kibble, Dr. Duncan Dog will delight young readers and their families.
About Auryn
Founded by Academy Award-winning visual effects experts from Hollywood's top movie studios, Auryn Inc. is the most award-winning digital publisher of storybook and creative apps for the iPad, iPhone, Android and other tablet devices. Auryn collaborates with authors, illustrators and publishers to turn their stories into educational, engaging and entertaining experiences. Auryn's patented technology (Aurynization) brings any illustration style to life through animation and interactivity. Kirkus Reviews, Fast Company, NPR, PadGadget and Animation Magazine all herald Auryn as a leader in creating sophisticated and immersive 'app' experiences. (See http://www.auryn.com )
About Author Lisa Dunn-Dern
Children's lifestyle expert and author Lisa Dunn-Dern is a multi-faceted talent whose skill and expertise has encompassed children's books, an online children's lifestyle column, and her own radio and TV programs. She was a staff writer on the HBO-Fox series 'ROC,' and produced and directed large-scale children's musical theatre productions in Los Angeles. She has received awards and an endowment in her name for her passionate commitment to children's learning and literacy. http://derngoodbooks.com