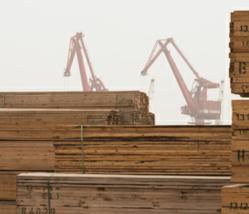 Conference attendees will benefit from a more complete picture of the forest products industry to help them grow their business.
Coeur d'Alene, Idaho (PRWEB) December 27, 2012
The small logs are out there, the ideas about what to do with them are solid, but small-diameter timber utilization still needs to build a broader business footprint. And that is exactly what Small Log Conference promoters have in mind when the sixth biennial conference rolls into Coeur d'Alene, Idaho March 13-15. The event's core content of small log and woody biomass utilization now adds wood-based biofuels and wood exports to its lineup, including a delegation of Asian wood products buyers and key exporting agencies and companies as part of the networking opportunities available to attendees.
"With the recession and the growing importance of global markets, and the need for new markets for beetle-killed timber and overstocked forests, there's a definite opportunity to tackle a broader set of issues. This is the sort of business-building value we want to offer our conference attendees," said Arnie Didier, Chief Operating Officer of Forest Business Network, based in Missoula, Montana.
Didier, one of the conference organizers, acknowledged that past conferences have been highly successful in covering small diameter timber and biomass issues, yet there is still the need to link products with markets. With new twists on green energy and capital available, some of the dots have now been connected, however, and conference attendees can expect an even bigger agenda and networking opportunity than in the past.
"Once we developed partnerships with both the Northwest Advanced Renewables Alliance and the Montana World Trade Center, it became obvious that we needed to add wood-based biofuels and wood exports to our core small diameter content," Didier said. "We're very excited to bring a more complete picture of the forest products industry – and an even stronger return on investment – to our attendees."
The three-day conference will cover the latest in small log and woody biomass technologies, while adding the updated presentations on wood-based biofuels and wood exports. Top representatives from the Softwood Lumber Board will also be on hand to explain the Softwood Lumber Check-off Program. Traditionally, the Small Log Conference has brought together forest-based businesses, community developers, international economics experts and government agencies.
As in years past, there will be a pre-conference mill tour, this time covering Columbia Cedar in Kettle Falls, Washington, and Vaagen Brothers Lumber based in Colville, Washington. The conference also includes a Suppliers Showcase which features exhibits and representatives from companies involved in small log utilization, woody biomass, wood-based biofuels and wood exports.
Sponsors include: HewSaw, U.S. Forest Service - Forest Products Lab, Montana World Trade Center, Rawlings Industrial, Northwest Advanced Renewables Alliance, Rawlings Manufacturing, Comact, The Conservation Fund, Montana Energy Promotion and Development Division, and USNR.
Those interested in more information on the conference, including sponsorship and exhibiting opportunities, can visit the 2013 Small Log Conference website or phone Tom Waddell at Forest Business Network at (406) 546-5977.