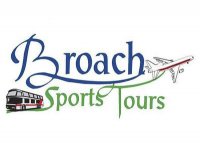 It's one of those years where everything seemed to fall into place perfectly with the schedule.
Charlotte, N.C. (PRWEB) December 20, 2012
Broach Sports Tours has announced a sterling lineup for its 2013 Grapefruit League spring training baseball tour.
The motorcoach tour will run Saturday, March 16 through Sunday, March 24, and will operate with Tampa as its home base. Fans will see eight games in a seven-day stretch, involving 12 different Major League Baseball teams.
"We have been taking fans to spring training throughout our 20-year history, and this may well be the most-exciting tour we have ever done," president Tom Broach said. "It's one of those years where everything seemed to fall into place perfectly with the schedule. We'll get to see the Yankees twice, the Red Sox twice, and one day we'll even take in a doubleheader.
"Another exciting thing about this tour is that we'll ride in style in one of our new Broach Coach motorcoaches, complete with flat-screen TVs for watching even more baseball on the way home from the ballpark."
The tour starts on Saturday, March 16, originating in Charlotte with pickups in Columbia, S.C.; Savannah, Ga.; and Jacksonville, Fla. Fans from other parts of the country can meet up with the group in Tampa.
The schedule is as follows: Sunday, March 17, Twins-Orioles at Sarasota; Monday, March 18, Red Sox-Pirates at Bradenton; Tuesday, March 19, Yankees-Phillies at Clearwater; Wednesday, March 20, Pirates-Braves at Disney; Thursday, March 21, Blue Jays-Rays in the afternoon and Phillies-Red Sox at night at Sarasota; Friday, March 22, Cardinals-Astros at Kissimmee; and Saturday, March 23, Yankees-Tigers at Lakeland.
Fans will then return home on Sunday, March 24.
The package includes deluxe motorcoach transportation, eight nights' hotel accommodations at Country Inn and Suites Tampa Airport, tickets to all eight games, continental breakfast daily, Broach Sports Tours host and more.
Cost of the total package is $1475 per person double occupancy, $1345 per person triple, $1280 per person quad, or $1925 private.
Those reserving by January 4 will receive a $250 per person discount.
Broach Sports Tours, based in Charlotte, has been a leader in the sports and group travel industry since 1992. It specializes in Major League Baseball tours, with a total of 26 different tours on tap for next summer.
Broach also offers golf travel packages to such events as the British Open, U.S. Open and Ryder Cup; tennis packages to Wimbledon, Roland Garros and the U.S. Open; and NASCAR travel packages to the Daytona 500 and a multitude of other races.
For more information, contact Melanie Hicks at 1-800-849-6345 or visit http://www.broachsportstours.com.