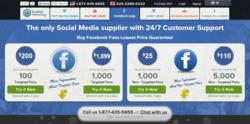 Ottawa, ON (PRWEB) December 19, 2012
BuyRealMarketing.com, the leading provider of web 2.0 business applications and social media solutions, recently launched the new webpage for service packages of Facebook fans that aim to help businesses gain traction in the online market, specifically within the giant social network of Facebook.
The social media marketing company has been offering social media solutions through Twitter followers, YouTube views, Tumblr followers and other prominent, highly trafficked social networking websites. Service packages on Facebook fans have long been offered by BuyRealMarketing but was then only available on their Client Portal – a one-stop social media shop.
BuyRealMarketing Managing Director, Jean-Patrick Bisson has long decided to make Facebook fans widely accessible to all clients, whether they buy from their portals or on the landing pages. "It's high time that we offer our clients the privilege to avail of Facebook fans. We have been receiving many requests for this service and since we value our clients, we decided to just push through offering it on the website," he said.
There are two types of Facebook fans being offered on the website: Targeted Facebook Fans and Non-targeted Facebook Fans.
Targeted Facebook fans are all organic (real). A client's account will undergo a meticulous marketing process that includes search-ads, demographic and interest-based targeting, banner ad campaigns and other marketing optimizations. Because all fans are targeted, BuyRealMarketing has had a tough time handling the massive pile of orders.
"We apologize beforehand if at certain times we cannot accommodate more orders for the targeted Facebook fans. When the demand is high, the team will have to turn down orders temporarily. This is so we can maintain the quality service of our marketing campaigns," explains Jean-Patrick Bisson.
Non-Targeted Facebook fans, on the other hand, are composed of company-controlled accounts with a large portion of organic fans that come from the BuyRealMarketing's wide social media partner networks. This particular service aims to provide clients the social media momentum and real SEO value to be visible on searches and look credible with a big Facebook fan counter.
BuyRealMarketing offers a roster of social media marketing services that include Twitter followers, YouTube views, SoundCloud plays, Vimeo views, Pinterest followers, Tumblr followers and Facebook fans. The services are offered with a 100% Money Back Guarantee and clients are met with friendly hard-at-work customer support representatives available 24/7.
To know more about the company's services, visit their website at buyrealmarketing.com or contact them at 1-877-435-5955 (US) or 020­3289-0222 (UK).
About
BuyRealMarketing is owned by Clicking Labs. Clicking Labs is a well-established internet marketing company founded in 2010 by Jean-Patrick Bisson, Diana Quartin and Jonathan Kennedy. The company specializes in driving search marketing and social media traffic, social web app development and conversion optimization. Each product or service specifically helps small/medium website owners increase online visibility and improve online sales.
###