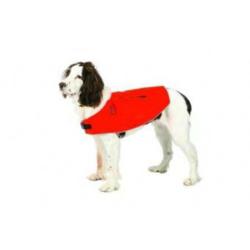 Miami, FL (PRWEB) December 20, 2012
With hunting season in full swing, many dogs are employed doing the tasks for which some canines were expressly bred and WholePetDirect.com has the solution for keeping these canines safe. Nothing is quite like the sight of a pointer pausing, his muzzle aimed toward prey, or a retriever delivering a prize to his master. Hunting is a healthy activity for a dog and its owner. Hunting does carry serious risks. Hunting dogs--many of which have coloring designed to camouflage them from prey—and even dogs who are coincidentally outdoors when hunters are nearby are at significant risk of accidental injury by gunshot.
Accurate statistics for accidental canine shootings cannot be compiled, the dramatic decline in accidental human shootings during hunting season—for which statistics do exist-- suggests that dogs, when similarly protected, will be similarly protected. According to David Gulliver of the Virginian-Pilot, "During all seasons from 1960 through 2001, hunters shot at least 741 people who weren't wearing the orange clothing." Hunters wearing blaze orange vests experienced dramatically fewer incidents--a full 64 percent fewer shooting accidents.
Some mistakenly believe that humans or dogs wearing a bright color will ward off desired prey. In fact, many animals hunted—including turkeys—are color-blind. Even deer will walk within 10 feet of a hunter wearing blaze orange. Wearing the Canine Field Jacket will not reduce hunting success and may save the life of a dog.
With strong statistical evidence demonstrating the efficacy of blaze orange gear in preventing accidental shootings, common sense dictates that dogs, too can be protected. This is backed up, anecdotally, by a case being investigated by the Colorado Division of Wildlife. Reka, a Malamute/Husky, was shot during a hike with veterinarian owner Lisa Berg and her physician partner, Jeff Snyder. Two local hunters using a legal coyote call to bait coyotes, attracted responses from three dogs, including Reka, who was shot. Three other dogs walking in the area also responded to the call—but were not shot. Each of the dogs that remained safe was wearing a blaze orange protective vest.
Reka survived her injuries and her owners, while lobbying for changes in penalties for shooting domestic animals now have Reka sport colorful gear.
"As pet enthusiasts we love all dogs and strive to provide owners with ways to keep them healthy and safe," states Kyle Breiner WholePetDirect.com executive, "The Canine Field Jacket is one our favorite products for dogs." The leading online pet supplier, WholePetDirect.com, helps concerned dog owners protect canine hunting companions from injury with the Field Jacket by Mendota. Composed of durable, 1000 denier water-resistant Cordura™ nylon—known for its superior durability and resistance to snags, tears, and scuffs--insulated with cozy, 100 gram lightweight Thinsulate™, and lined with sturdy, Ripstop, the vest provides just the right protection from the elements. Another benefit of the Field Jacket is two 5" x 9" zippered pockets hold field necessities.
The Mendota Canine Field Jacket is available from WholePetDirect.com for $59.99, with a flat shipping rate of $5.75. (Orders over $100 are eligible for free shipping)
WholePetDirect.com invites pet owners to stop by to view the Canine Field Jacket, as well as its other dog safety products, including Mendota's DuraFlect collar, the SPOTLit LED Collar Safety Light, and Mendota's Visi Vest.