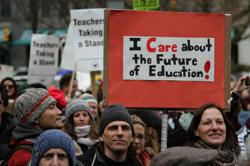 Not every parent can take a day off work and many find it hard to stay on top of news developments.
Ontario (PRWEB) December 21, 2012
Ontario school parents now have a place to plan, communicate and share information safely, easily and privately.
Free online network Schooltree.org has provided over 5000 Ontario schools with live community web pages where parents can connect with local school administrators and each other over renewed teacher protests threatened in the new year.
According to the Canadian Press, the ETFO (Elementary Teachers' Federation of Ontario) has announced in a news conference Friday morning that they will end strikes against Bill 115 if the Ontario government agrees not to impose contracts on them and school boards. But EFTO president Sam Hammond says protests will increase if the government does impose contracts.
CUPE (Canadian Union of Public Employees) says its members are also planning protests in solidarity. CUPE represents workers and support staff in both the public and Catholic school boards, putting Ontario school parents in an awkward and uncertain position.
"Not every parent can take a day off work and many find it hard to stay on top of news developments," says Schooltree.org Director Jono Landon. "They've scrambling to make last-minute arrangements that aren't always the most reliable." According to Landon, the benefits to staying connected with other local school parents become a necessity during times of uncertainty.
School parents in Ontario (and across Canada) can find their local school's live community web page by searching by name or region at Schooltree.org. Once they've signed up, parents can join their local school page and connect with other school members. "School parents want to connect with each other, for their kids' sakes and their own," Landon says. "We've given them a safe, convenient place to do that."
Schooltree.org is a Toronto-based internet company whose recently-launched online parent engagement and communication tool was designed specifically for school communities. Comments, questions and feedback are welcome at (416) 544-9925 ext. 262 and naomi(at)schooltree(dot)org.