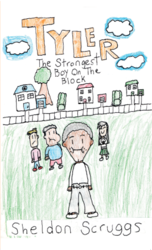 Tyler, the star of this new young adult novel, makes a wish one night for super strength.
MONTGOMERY, N.Y. (PRWEB) December 20, 2012
Tyler is a skinny teenager with a lot of problems: being bullied on the bus and in school every day, living with older relatives because his mother is a drug addict, being ignored by the girl he likes, and trying to resist a drug dealer who threatens to beat him up if he doesn't sell drugs. Tyler, the star of this new young-adult novel, makes a wish one night for super strength. Surprisingly, his wish comes true. He's able to run as fast as a car, bend steel in his hands and tear phone books in half. His new-found powers put him to the test as his only two friends, Cornell and Ralph, want to push him in the direction of being a crime-fighting superhero or even a celebrity strongman. But Tyler just wants to live a normal life. If anything, he wants to help his grandmother pay the monthly bills and have his drug-addicted mom to come home to live with him.
"Tyler: The Strongest Boy on the Block" is about the disease called bullying and courage. The first clue that Tyler has changed comes while he's searching for his great-uncle who has Alzheimer's Disease and has left the house early one morning on one of his aimless journeys. Later on, Tyler is forced to defend himself and a friend against a vicious attack by high school bullies. In both instances he surprises himself by responding with supernatural speed and strength.
While Cornell and Ralph would love to see him attack everyone who ever bothered them at school, Tyler exercises restraint. And it's his middle school principal who clues Tyler in to what being a "superman" really means: a disciplined person who uses his freedom responsibly and recognizes his own shortcomings. As word of Tyler's power spreads, his story runs on local TV news and he has an unforgettable appearance on Jimmy Fallon's late-night TV show. After a while, Tyler wonders if his super strength is really a gift. As he pursues his dreams, a betrayal by someone he trusts becomes the final test of his courage.
Author Sheldon Scruggs, a retired schoolteacher and reporter, lives with his wife and teen-aged son in Mongtomery.
----------
For additional information, please visit http://www.thestrongestboy.com.
Tyler: The Strongest Boy on the Block
Sheldon Scruggs
Dog Ear Publishing
ISBN: 978-1-4575-1355-8
140 pages
$12.95 US
Available at Ingram, Amazon.com, Barnes & Noble and fine bookstores everywhere.
About Dog Ear Publishing, LLC
Dog Ear Publishing offers completely customized self-publishing services for independent authors. We provide cost-effective, fast, and highly profitable services to publish and distribute independently published books. Our book publishing and distribution services reach worldwide. Dog Ear authors retain all rights and complete creative control throughout the entire self-publishing process. Self-publishing services are available globally at http://www.dogearpublishing.net
and from our offices in Indianapolis.
Dog Ear Publishing – self-publishing that actually makes sense.