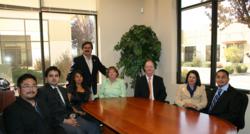 Our mission is to provide Knowledge, Community and Professionalism to the new Registered Tax Return Preparer (RTRP).
(PRWEB) December 21, 2012
http://www.latinotaxpro.org Selection for seasonal preparers usually starts in the fall, and the "traditional approach has been where you have an interview, find somebody trainable, hire them, then train them in what you want them to know," said Nik Young, RTRP and lead trainer for the Salinas, Calif.-based Latino Tax Professionals Association.
Young and LTPA executive director Carlos Lopez propose, however, that tax prep companies would be better served following the model of national chains and their association in conducting RTRP Exam Prep course training for seasonal preparer applicants. In fact, the new RTRP designation – and RTRP Continuing Education requirements – from the IRS create an opportunity for tax prep services to conduct their own training of prospective preparers, which can also provide additional revenue outside tax season. LTPA conducts webinars on hiring seasonal preparers. The one-hour webinar costs $99, and includes a sample seasonal preparer employee contract and sample job description.
The LTPA has set up its own training program for prospective seasonal preparers that includes, among other sessions, a two-Saturday boot camp before the season. The training, for which the association charges a fee, acquaints new preparers with the rigor of tax season and allows for accessing the people skills and other qualities of candidates beyond, said Young, what might be learned in a one-hour job interview.
"We look at the training course as a 15-hour job interview," said Young, adding that most candidates come with no tax prep or accounting background.
Lopez said that his firm surveys clients at the end of tax season regarding what clients want the firm to do most to get clients to return the next year. "They No. 1 answer is that they want to come back to the same preparer. We have to make sure preparers want to come back."
Lopez said that his firm pays a 25-percent-of-gross "beginning" commission rate against an hourly rate of $10 to $17 an hour. Some seasonal preparers, he added, make $40,000 to $42,000 between mid-January and the end of April. Returning preparers who earned commissions in their first year with the firm also receive a raise of one percentage point in commissions if they return the following year. Lopez said that he has one preparer who's worked for his firm for 20 years; Young himself has been a seasonal preparer for nine years.
For more information go to http://www.latinotaxpro.org