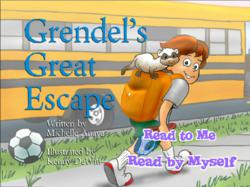 Grendel's Great Escape Book App on the iPad mini give kids fun & constructive screen time while giving Parents the gift of time to tackle the holidays.
Little Elm, TX (PRWEB) December 20, 2012
Parents are noticing that the iPad Mini are the perfect size for little hands; now they have a perfect reason to add this to their Christmas list. Grendel's Great Escape book App by Author Michelle Anaya engages kids with interactivity and sound while encouraging voluntary reading.
Features include read to me/read by myself options & original music. Grendel's Great Escape is a Show & Tell day's adventure with messy Martin and his pet Ferret Grendel. Martin is always putting things off for later, such as cleaning his room, tackling the laundry monster and leashing his Ferret.
In this app, kids will join Martin in his race against time to find Grendel while avoiding the grizzly school principal.
Blue Sandpiper Imprints is a company dedicated to encouraging voluntary reading by providing innovative and interactive literature for children.