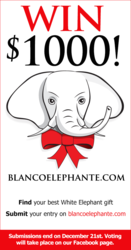 (PRWEB) December 19, 2012
BlancoElephante.com, the online white elephant gift idea web site, is in search of the best white elephant gift ideas and accepting submissions until December 21st at midnight. The $1,000 prize recipient will be determined by Facebook votes December 23rd.
A white elephant gift exchange, also known as a Yankee swap, is a fun holiday party game where participants bring humorous, tacky inexpensive gifts to exchange. The term white elephant refers to a possession whose maintenance costs exceed its usefulness. The kings of Siam used to present unfavorable courtiers with white elephants as the animals were not practical to maintain. A white elephant gift is traditionally an object with little to no practical use. The overarching theme of the white elephant gift exchange is entertainment instead of benefit.
Common gift ideas range from the Flowbee of late night infomercial fame, to Milli & Vanilli Greatest Hits to NinjaBread Men Cookie Cutters. For the fashion conscious, there are HanderPants, the underwear for your hands, or bacon strip bandages.
White Elephant ideas can be submitted at http://blancoelephante.com/contest/ for a chance at $1,000. A submission consists of the name and e-mail of the contestant along with a link and brief description of the gift idea. The entries will be voted on by fans of Blanco Elephante's Facebook page: http://www.facebook.com/BlancoElephante. The winning gift idea will be selected December 23rd. Submissions limited to US and Canadian citizens 18 and older.
About Blanco Elephante
BlancoElephante.com is a resource for white elephant parties, providing creative, funny and unique gifts ideas as well as gift exchange rules and instructions. For more information, please visit http://www.blancoelephante.com.