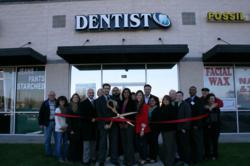 Fort Worth, TX (PRWEB) December 20, 2012
Archstone Dental recently held a ribbon-cutting ceremony on Dec. 13th at its North Fort Worth location at 7630 North Beach St. #130. In attendance were the staff and diplomats of the Northeast Tarrant Chamber of Commerce, as well as Archstone Dental owner Dr. Gabriel Shahwan and his staff.
Founded in 2009, Archstone Dental was designed to make oral health care convenient and accessible, while providing the highest quality dental care in a family-based, high technology practice. The dentists and associates work diligently to make sure that each and every visit to the dentist is a pleasant one. Combining the right mix of personal care, high technology, and continuing education, Archstone Dental maintains a commitment to their patients in every facet of their practice.
Archstone Dental is open Monday through Friday from 9a.m. to 6p.m. and every other Saturday from 9a.m. to 3p.m. The office accepts Visa, MasterCard, Discover, PPO insurances, Medicaid, CHIP, cash, and checks. Archstone Dental has several locations serving the communities of Fort Worth, Granbury, and Weatherford.
Call (817) 485-7775 to schedule an appointment with the office today.