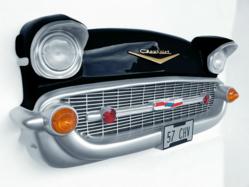 These come in different shapes and sizes with different car models that mimic the Chevy, Corvette, Cadillac, Mercedes and Rolls Royce
Allen, Texas (PRWEB) December 22, 2012
The Interior Gallery recently introduced a new home décor car model called the Chevy Front Wall Décor which the company is adding to its growing collection of Car Decor models. The new model is available in black and comes at a discounted price.
The company is known for offering a huge variety of car décor which car enthusiasts will enjoy having in their homes. These come in different shapes and sizes with different car models that mimic the Chevy, Corvette, Cadillac, Mercedes and Rolls Royce. There are even motorcycle replicas available for home owners to pick.
Many of these car and motorcycle models could be used as shelves, bar height counters, clocks and even mirrors. The Interior Gallery had these models custom designed for them. Their entire selection of car décor are skillfully handcrafted and made using quality materials.
Some of the more popular selection include car bars that mimic the 1957 Chevy which are available in red, black, turquoise and pink. The Corvette Car Bars come in either red or black while the Rolls Royce Car Bar could be purchased in black or gold color.
The company also has a selection of car sofas which mimic the 1959 Cadillac, 1956 Chevy and even Hummer and Mercedes designs displayed in the interior decorating gallery.
Some models even come with electrical components which allow the head lights or tail lights of these car models to be turned on. These selection of car sofas and car bars are made from poly resin and reinforced with fiberglass and steel for added strength. Most of the models available are also weather resistant to last longer.
The company's car décor range are just one of the sub-categories in their huge Statues and Décor category. Other quality products that are listed consist of Animal Statutes, Theme Décor, Decorative Birdcages, Restaurant Décor, Butler Statues, Popeye and Betty Boop Collectibles, Christmas and Stone Décor.
Powered by top ecommerce software, InstanteStore, the company aims to offer a convenient and easy way for customers to buy their products online.
The Interior Gallery happens to be one of the largest importers of statues and themed décor in the United States. Being a factory direct business, the company imports their custom designed products directly from manufacturers which are shipped to their main distribution center in Carrollton, Texas.
The Interior Gallery offers shipping throughout the United States and to Canada. Customers get to enjoy tax free shopping except for those from Texas. The company offers a lowest price guarantee on their products.
Customers could view the company's entire range of products via their website http://www.TheInteriorGallery.com or visit their new $3 million showroom located in Allen, Texas to see The Interior Gallery LLC actual physical products. To speak to customer service, please call toll free 866-205-6867. orders could be placed through the phone by calling 214-614-8176.